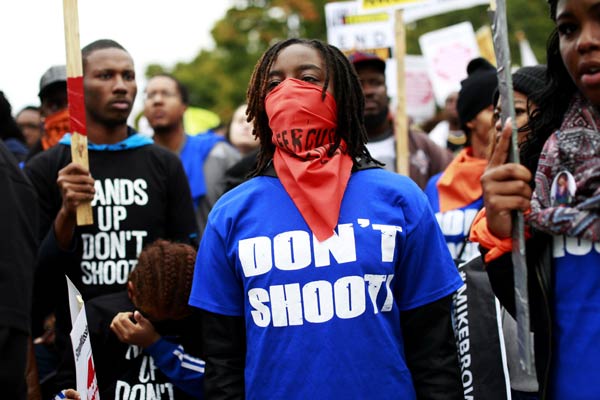 Demonstrators stand during a rally in St. Louis, Missouri October 11, 2014. [Photo/Agencies]
ST. LOUIS -- More than a dozen protesters were arrested Sunday in St. Louis, Missouri, where people were staging protests calling for the arrest of a white police officer who shot dead an unarmed black 18-year-old in August.
Police also used pepper spray and tear gas to disperse the crowd.
The protesters were arrested when they staged a surprise sit-in in Shaw neighborhood as an act of civil disobedience.
Police in riot gear started advancing on the group, kicking and punching the protesters with batons. More than half a dozen people were pepper sprayed.
During the clashes, St. Louis City Police kept saying through a loudspeaker, "If you do not disperse, you will be subject to arrest. This is an unlawful assembly."
St. Louis Police Chief Sam Dotson claimed that protestors threw rocks at the police, an accusation that has been denied by many reporters at the scene.
Thousands of people staged protest marches, vigils and other demonstrations in the St. Louis area this weekend, calling for the arrest of white police officer Darren Wilson who shot dead unarmed black teenager Michael Brown on August 9. The fatal shooting of Vonderitt Myers, an 18-year-old black, by an off-duty white officer on Wednesday has aggravated the tension.