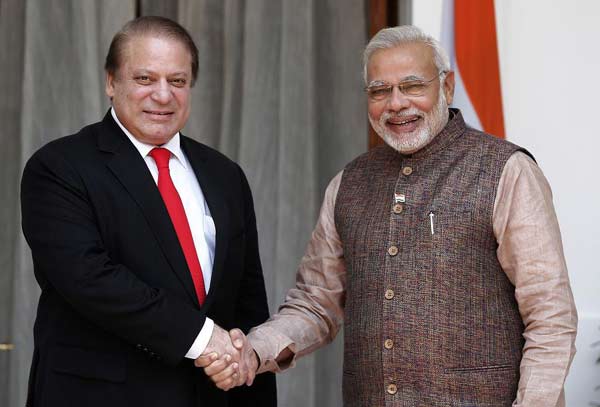 India's Prime Minister Narendra Modi (R) shakes hands with his Pakistani counterpart Nawaz Sharif before the start of their bilateral meeting in New Delhi, May 27, 2014. [Photo/Agencies]
NEW DELHI - India called off on Monday peace talks with Pakistan, giving a jolt to renewed diplomatic efforts between the two nuclear-armed neighbors and adding to the troubles of Pakistan's beleaguered government.
The move came nearly three months after Pakistani Prime Minister Nawaz Sharif attended the inauguration of Indian Prime Minister Narendra Modi, the pair shaking hands in a gesture that had raised hopes of warmer ties between the two nations.
India said it would not attend talks involving the foreign secretaries of the two countries, which had been set to take place on Aug 25 in Islamabad, because of plans by Pakistan to consult Kashmiri separatists ahead of the meeting.
India's foreign ministry spokesman Syed Akbaruddin called the invite an "unacceptable" attempt to "interfere" in domestic affairs, adding that the talks had been "canceled".
Pakistan deplored India's move, calling it a "setback" in efforts to promote good neighborly relations.
The Himalayan region of Kashmir has been a bone of contention between India and Pakistan since both gained independence in 1947.
The two nations have fought three wars and came close to a fourth war in 2001 and there have been regular clashes on the heavily militarized Line of Control that divides Indian-and Pakistan-controlled Kashmir.
In a statement, Akbaruddin said Pakistan's proposed meetings with Kashmiri separatists "undermines the constructive engagement initiated" by India's new administration.
He added: "...under the present circumstances, it is felt that no useful purpose will be served by the Indian Foreign Secretary going to Islamabad next week."
Pakistan's foreign affairs ministry, however, defended the decision to consult the Kashmiri leaders, saying it was a "longstanding practice" prior to talks between the two nations to "facilitate meaningful discussions on the issue of Kashmir".