New Indian Prime Minister Narendra Modi met with the leader of rival Pakistan on Tuesday and asked that his country "abide by its commitment" to prevent its territory from being used in terrorism against India and speed up investigations into the 2008 attack in Mumbai.
Modi met with Prime Minister Nawaz Sharif and the leaders of Afghanistan, Sri Lanka, Nepal, Afghanistan, Mauritius, Bangladesh and Maldives, a day after they attended his inauguration. But all eyes were watching the meeting between Modi and Sharif for signs of a thaw in the relations between the often-hostile, nuclear-armed neighbors.
"The prime minister underlined our concerns related to terror. It was conveyed that Pakistan must abide by its commitment to prevent its territory and territory under its control from being used in terrorism against India," Indian Foreign Secretary Sujatha Singh told reporters.
Sharif told reporters that the meeting should be "a historic opportunity for both our countries".
Modi also asked that Pakistan hasten its investigation into the 2008 attack on Mumbai, India's financial hub, in which Pakistani militants killed 166 people, and put the perpetrators on trial, Singh said.
- AP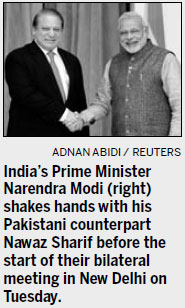 (China Daily 05/29/2014 page11)