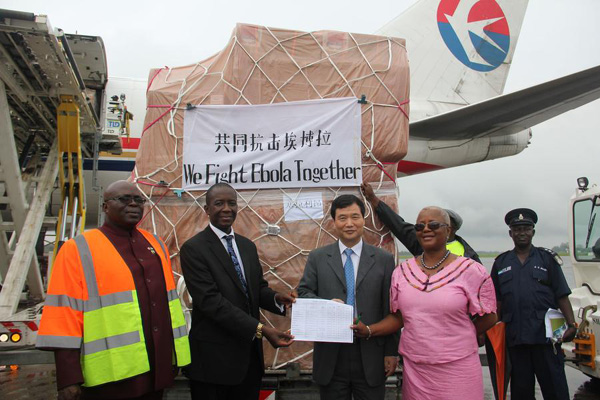 Chinese emergency humanitarian supplies arrive at Lungi International Airport in Freetown, Captital of Sierra Leone, Aug 11, 2014. [Photo/Xinhua] More photos
Chinese medical workers who were sent to Ebola-affected Sierra Leone are in good condition, Wang Yaoping, captain of the Chinese medical team in Sierra Leone, told China Daily.
Wang stresses that none of the Chinese in Sierra Leone including the medical team tested positive for the virus. The medial team is operating normally, he added.
"One of our colleagues was in contact with an Ebola-infected patient, but he has been confirmed safe after a 21-day observation period," Wang said.
The Sierra Leone medical team consists of 10 people – 9 medical workers and one cook, all from Central China's Hunan province. They were sent to Sierra Leone in April this year.
In addition to medical treatment, the workers are also in charge of clearing Chinese relief goods to Sierra Leone.
The team members are in contact with their families back in China, Wang added.