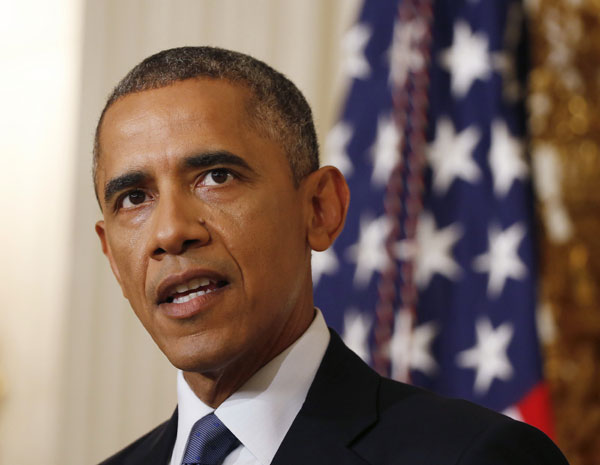 US President Barack Obama makes a statement about the humanitarian relief situation in Iraq inside the Brady Press Briefing Room of the White House in Washington, August 7, 2014.[Photo/Agencies]
Chinese evacuation from Iraq
WASHINGTON - US President Barack Obama says he's authorized the US military to carry out airstrikes in Iraq against Islamic militants if they advance toward the city of Erbil.
Obama says when the lives of Americans are at risk, and when thousands of civilians are at risk, US will take action.
"We can act, carefully and responsibly to prevent a potential act of genocide," Obama said, referring to a religious minority group besieged by fighters from the so-called Islamic State.
"I therefore authorized targeted air strikes if necessary to help forces in Iraq as they fight to break the siege and protect the civilians trapped there."
Obama also said the US military had carried out airdrops of humanitarian aid to Iraqi religious minorities under siege by the extremists.
Speaking after meetings with his national security team, Obama - in his most significant response to the Iraq crisis - said he approved limited use of American air power to protect American personnel if Islamic State militants advance toward the Kurdish capital Arbil where they are based.
The airstrikes would be the first carried out by the US military in Iraq since the withdrawal of its forces at the end of 2011, but Obama insisted he would not commit any ground forces and had no intention of letting the United States get dragged back into a war there.
Obama took action amid international fears of a humanitarian catastrophe engulfing tens of thousands of members of Iraq's minority Yazidi sect driven out of their homes and stranded on Sinjar mountain under threat from rampaging militants of Islamic State, an al Qaeda splinter group. Many Iraqi Christians have also fled for their lives.
US military planes returned to the skies over northern Iraq on Thursday to deliver food and water to thousands of civilian refugees fleeing an onslaught by Sunni extremist militants.
A senior US defense official confirmed the mission had dropped "critical meals and water for thousands of Iraqi citizens."
All the planes returned safely after the food drop on an area outside the town of Sinjar where members of the Yazidi minority are besieged by fighters from the so-called Islamic State (IS).
"When we have the unique capabilities to help avert a massacre, then I think the United States cannot turn a blind eye," Obama said.
But he also declared that he had run for the presidency in part to end America's involvement in the Iraqi war, repeating his promise that the United States would not send ground troops back to that country.
"There is no decision that I take more seriously than the use of military force. Over the last several years, we have brought the vast majority of our troops home from Iraq and Afghanistan," said Obama. "I've been careful to resist calls to turn time and again to our military because America has other tools in our arsenal than our military."