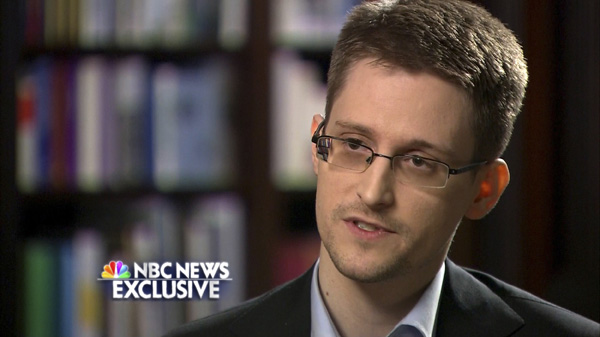 Former US defense contractor Edward Snowden is seen during an interview with "NBC Nightly News" anchor and managing editor Brian Williams in Moscow in this undated handout photo released May 28, 2014. [Photo/Agencies]
MOSCOW - Fugitive former US intelligence contractor Edward Snowden was granted a residence permit for three years in Russia, his lawyer said Thursday.
"He has got a three-year residence permit starting from August 1," Anatoly Kucherena said at a press conference.
"We filed documents with the Russian Federal Migration Service (FMS) beforehand to make sure the extension of Snowden's stay on Russian territory would be considered," the Interfax news agency quoted Kucherena as saying.
Kucherena said Snowden has not decided yet whether to stay in Russia and seek Russian citizenship or leave for the United States in the future, adding that under Russian legislation, Snowden can seek Russian citizenship after receiving a residence permit and living in Russia for five years.
"The law says no earlier than five years," the Interfax reported quoting the lawyer.
No official request is received to extradite Snowden and his extradition is impossible, according to Kucherena.
"Extradition is not possible under the Russian legislation. He has not committed any crimes, facing no charges in the Russian Federation. Evidence is needed to bring him to responsibility," Kucherena said.
He said that Snowden is allowed to leave Russian territory for a time period of no longer than three months.
"Snowden may move freely to other countries under one restriction: he may stay abroad for no longer than three months," the lawyer said.
Kucherena added that Snowden's security is protected by a private security company, not the Russian government.
The FMS granted Snowden, a former US National Security Agency contractor wanted by Washington for intelligence leaks, permission for one-year asylum in Russia on Aug. 1, 2013.