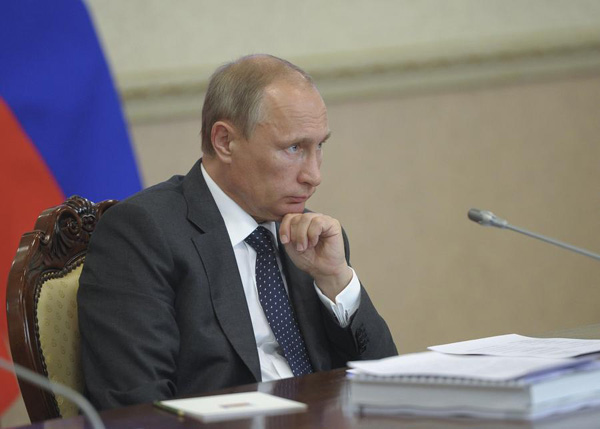 Russia's President Vladimir Putin chairs a session of the State Council Presidium in Voronezh, Aug 5, 2014. Putin has ordered his government to prepare retaliatory measures against the latest round of Western sanctions, Russian news agencies reported on Tuesday. [Photo/Agencies]
MOSCOW - Russian President Vladimir Putin said Tuesday that he has ordered the government to think over retaliatory measures against western sanctions, local media reported.
"Political tools of pressure on the economy are unacceptable and contradict all norms and rules. The Russian government has already proposed a number of measures in retaliation to the so-called sanctions by some countries," Putin said at a working meeting with the acting governor of the Voronezh region, south of Moscow.
Meanwhile, the president noted that Russia's response to western sanctions should be "accurate," stressing that it is necessary to take into account the interests of both Russian manufacturers and consumers.
"Naturally, this has to be done very accurately so as to support domestic producers and protect consumers," the Itar-Tass news agency quoted Putin as saying.
The Russian president added that producers in various countries should compete equally in order to meet the interests of national security and rules of the World Trade Organization.
The European Union (EU) sanctions on Moscow took effect on Friday, which include a package of punitive measures targeting Russia's finance, defense and energy sectors. The United States and Japan also announced new sanctions against Russia over its alleged role in the current Ukrainian turmoil and the downing of a Malaysian passenger plane, which killed 298 people on board.
Russia accused the EU of being manipulated by "Washington's dictation," and slammed the US sanctions as "destructive and short-sighted." The consultations between Russian and Japanese deputy foreign ministers were postponed Tuesday by Moscow due to Japan's further sanctions.