Australian Immigration Minister Scott Morrison said on Sunday that a question of "moral responsibility" should determine the fate of a baby born with Down syndrome who was reportedly left by an Australian couple with its surrogate mother in Thailand.
Morrison's comments came as funds raised online by an Australian charity to pay for the infant's medical care rose above $190,000 after a flood of international goodwill over the infant's plight.
The boy, Gammy, and a twin sister were born to Thai woman Pattaramon Chanbua in December after she was reportedly paid $14,900 to be a surrogate.
An unnamed Australian couple took the sister, who was healthy, but left Gammy behind, according to media reports.
The baby boy also suffers from a life-threatening heart condition, and 21-year-old Pattaramon had earlier said she could not afford to pay for the medical treatment he needs.
"I think this is an absolutely heartbreaking story, it really is," Morrison told the Australian Broadcasting Corp.
"I think perhaps this may fall more into the territory of what people's moral responsibilities are here.
"I note there was a comment earlier that the mother of this child, baby Gammy, wants the child to remain in Thailand, and that mother's wishes also have to be absolutely respected."
Pattaramon's mother, 53-year-old Pichaya Nathon-chai, told AFP on Sunday that Gammy had been in a private hospital in Chonburi province, about an hour from Bangkok, since Thursday, and his condition was "improving".
"He is a quiet, calm boy. His mother and I are taking turns to see him at the hospital," Pichaya said, adding her family was relieved donations were coming in.
"Although we have benefited from the 30 baht ($1) health plan, it does not cover everything he needs," she said, referring to Thailand's universal healthcare system.
Peter Baines, the founder of Hands Across The Water, the charity managing the donations, said Gammy was in hospital as he was "still very ill and suffering from a lung infection at the moment".
He said the donations had far exceeded the initial $25,000 target, and he would be flying to Thailand from Australia in the next few weeks to coordinate how the money is used to fund Gammy's healthcare and his family's needs.
Pattaramon told Fairfax Media late Saturday she wanted to take care of the boy in Thailand, saying: "I'll take care of Gammy on my own. I'll not give my baby to any-body."
Clearer surrogacy rules
Rachel Kunde, executive director of advocacy group Surrogacy Australia, said she hoped the case will lead to better regulation by the Australian authorities of international surrogacy, rather than an outright ban, according to a BBC news report.
"Our greatest fear is that Australia is going to ban international surrogacy altogether," she was quoted as saying. "We are hoping that the government will make accessing surrogates in Australia easier."
Nicola Scott, a British lawyer specializing in fertility issues, said a lack of regulation leaves the child vulnerable because issues such as termination are not discussed in advance.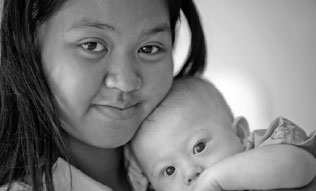 Gammy, a baby born with Down syndrome, is held by his surrogate mother Pattaramon Chanbua at a hospital in Chonburi province on Sunday. Reuters
(China Daily 08/04/2014 page11)