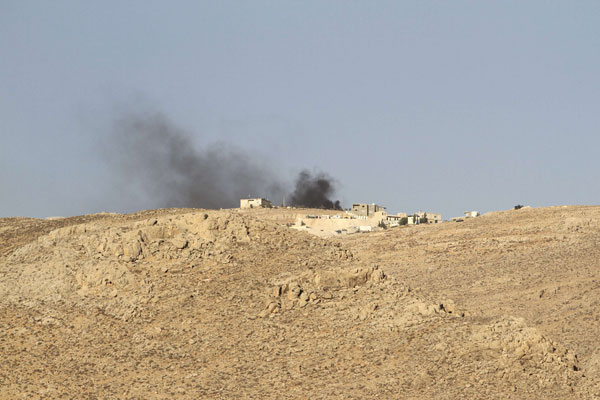 Smoke rises from a Lebanese army base as Lebanese Army soldiers clash with Islamist militants on the mountains next to the entrance of Arsal, Aug 3, 2014. Lebanese soldiers traded fire with Islamist gunmen and shelled areas around the border town of Arsal on Sunday aiming to roll back the biggest incursion by militants into Lebanon since Syria's civil war began. [Photo/Agencies]
LABWEH - Hundreds of Lebanese civilians are fleeing an eastern border town that was overrun by militants from neighboring Syria as Lebanese troops fight to liberate the area.
It's the most serious spillover of violence from the civil war in neighboring Syria into tiny Lebanon.
The civilians were streaming out of Arsal in cars and pickup trucks on Monday, fearing more violence as the Lebanese army brought reinforcements to the area.
About a dozen flatbed trucks carrying Lebanese army tanks were seen headed to the outskirts of the town of Arsal.
The three-day fighting has killed at least 11 Lebanese troops so far and 13 others are missing after Syrian militants made a cross-border raid and overran army positions in the area.
The Lebanese army has vowed to defeat the extremists.