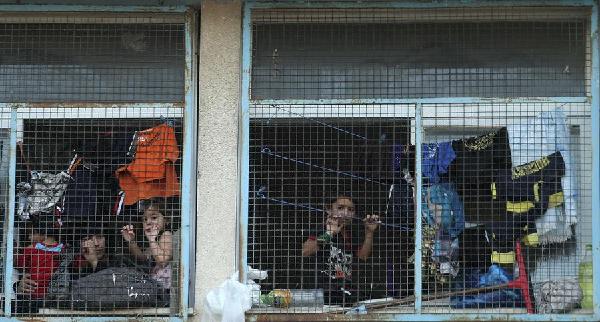 Palestinians displaced by an Israeli ground offensive look at the aftermath of what witnesses said was nearby Israeli shelling as they take shelter at a United Nation-run school, that witnesses said was also hit by Israeli shelling, in Jebalya refugee camp in the northern Gaza Strip July 30, 2014. [Photo/Agencies]

"EARTHQUAKE-LIKE RESPONSE"
In a separate incident, Israeli shelling killed at least 17 people and wounded about 160 others near a fruit and vegetable market in Shejaia, a heavily bombarded neighbourhood on the eastern outskirts of the city of Gaza, the Health Ministry said.
Witnesses said the crowd had gathered to watch a petrol station, hit earlier, burn in the distance. The Israeli military had no immediate comment.
"Such a massacre requires an earthquake-like response," Hamas spokesman Fawzi Barhoum said.
Gaza Health Ministry said rescue workers had recovered 20 more bodies in different areas of Gaza on Wednesday. It was unclear whether the people found were all killed on that day.
The army said 125 rockets were fired from Gaza, some reaching deep into Israel, causing no casualties or damage. Hamas said it fired four rockets toward Tel Aviv.
Israeli Communications Minister Gilad Erdan, a member of the security cabinet, said the forum had instructed the military to press on with its campaign to locate and destroy tunnels that militants have built under the Gaza border and have used to launch attacks inside Israel.
"In the coming few days we'll be giving the IDF (Israel Defence Forces) full operational freedom to strike against terrorism and complete neutralizing and destroying the tunnels," Erdan told Channel Two.
The head of the military's southern command, Major General Sami Turgeman, told reporters the army was "but a few days away from destroying all the attack tunnels".
He added that the offensive against militants in the Hamas Islamist-dominated enclave had been broadened to include more targets in the central and southern Gaza Strip.
According to the Gaza Health Ministry, 1,346 Palestinians, mostly civilians, have been killed since Israel began its offensive on July 8 with the declared aim of halting cross-border rocket fire and tackling Hamas's tunnel network.
At least 99 Palestinians were killed on Wednesday alone. Despite the Israeli toll, public support remains strong for continuing the military operation in the hope of preventing future flare-ups.
Mohammed Deif, the shadowy leader of Hamas's armed wing, said in a broadcast message on Tuesday that Palestinians would continue confronting Israel until its blockade on Gaza - which is supported by neighbouring Egypt - was lifted.
Israel has balked at freeing up Gaza's borders under any de-escalation deal unless Hamas's disarmament is also guaranteed.
"We are not looking for a ceasefire, though of course military manoeuvres are supposed to be followed by diplomatic manoeuvres," Erdan said. "But a ceasefire must fulfil Israel's terms, a long-term calm and the dimilitarization of Gaza."