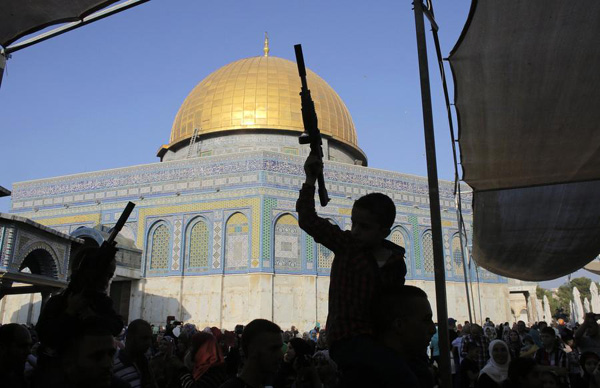 Palestinian children hold toy guns in front of the Dome of the Rock during a protest on the compound known to Muslims as al-Haram al-Sharif and to Jews as Temple Mount in Jerusalem's Old City, against Israel's military offensive in Gaza July 28, 2014.  [Photo/Agencies]
JERUSALEM - Israel has embarked on " unlimited ceasefire" policy on Monday morning, after 21 days of raging conflict and mounting international pressure to halt hostilities, an Israeli official told Xinhua.
According to the official, the new policy means the Israeli military will halt the deliberate attacks in Gaza and will open fire only in retaliation to Gaza militant fire.
"We are now on 'unlimited ceasefire,' as decided by the political echelon," the source said. The Prime Minister's Office was not immediately available to comment.
However, according to local media reports the military seems to hold fire from ground and air, but will continue to destroy Hamas' cross-border tunnels.
The rocket fire from Gaza has also declined sharply Monday, with a single incident in which a rocket was fired this morning at the city of Ashkelon on Israel's southern coast and hit an open field.
A spokesperson with the Israeli military said that following the incident, "the Israel Defense Forces retaliated towards Beit Lahyia area, from which the rocket was fired."
The ongoing fighting between Hamas movement and the Israeli army in Gaza which started on July 8 has claimed lives of more than 1,030 Palestinians, at least 720 of them were civilians, according to the UN and Palestinian health officials. On the Israeli side, 46 people were killed, 43 of them were soldiers, according to the Israeli military and police.
The new lull policy comes a day after US President Barack Obama spoke on the phone with Israeli Prime Minister Benjamin Netanyahu, demanding "an immediate, unconditional humanitarian ceasefire that ends hostilities now and leads to a permanent cessation of hostilities based on the November 2012 ceasefire agreement" brokered by Egypt.
On Monday morning, the UN Security Council joined Obama's call and urged "an immediate and unconditional humanitarian ceasefire, allowing for the delivery of urgently needed assistance" in Gaza.
The pressure for a ceasefire came after Israel and Hamas launched on Sunday fresh attacks at each other despite back-and- forth over proposals for another temporary truce. Following intense US and UN mediation efforts, both sides agreed on a 12- hour ceasefire on Saturday, but that lull could not be sustained.