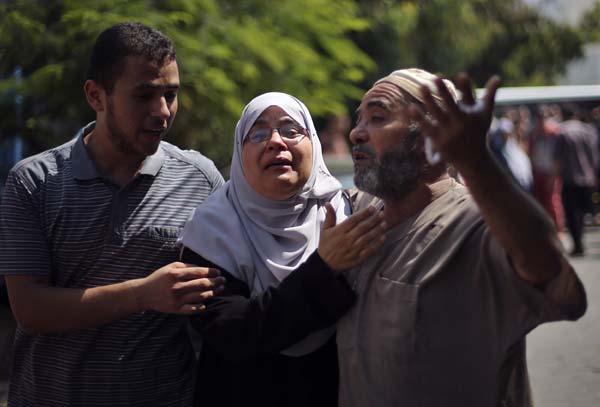 The parents of Palestinian man Zakareya al-Ashqar, who medics said was killed during heavy Israeli shelling, mourn a hospital in Gaza City July 21, 2014.[Photo/Agencies]
GAZA -- As Israel keeps on with its current massive aerial bombardment and ground incursion against the Islamist Hamas Movement in Gaza, body counts of Palestinians have increased to 509, with more than 3,000 others wounded, medical sources said on Monday.
The Gaza-based health ministry said in a press statement that since July 8, the Israeli army has killed a total of 509 Palestinians, while some 3,300 others were wounded, adding that two third of the victims are civilians, including women and children.
Meanwhile, Ashraf al-Qedra, spokesman for the health ministry in Gaza, told reporters that the latest death was on Monday afternoon when an Israeli tank shell fragment killed and 30-year- old man in eastern Gaza, adding that three young men were killed earlier on Monday morning in three separate airstrikes on different parts of the coastal enclave.
Ten Palestinians were killed early in an airstrike on Monday morning in Rafah town, including a 23-year-old young man, where rescue team pulled out the bodies of nine residents, the spokesman added.
Israeli war jets and tanks continued overnight and on Monday striking the Gaza Strip, while militants in the coastal enclave kept firing rockets into Israel and attacking the Jewish state's ground forces near the borders between the enclave and Israel.