JERUSALEM - The Israeli military said it downed a drone launched by militants in the Gaza Strip on Monday, the first time it encountered an unmanned aircraft since the start of its offensive last week, as new Israeli airstrikes pushed the death toll from a weeklong Israeli offensive to at least 175.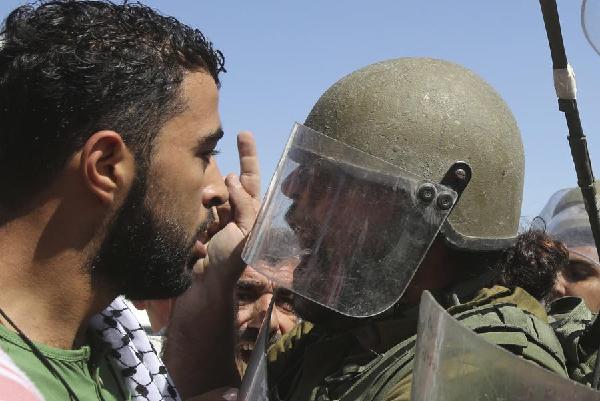 A Palestinian protester argues with an Israeli soldier during a protest against the Israeli air strikes in Gaza strip, at Hawara checkpoint near the West Bank city of Nablus, July 14, 2014. [Photo/Agencies]
Israel began its campaign against militants in the Hamas-controlled Gaza Strip last Tuesday, saying it was responding to heavy rocket fire from the densely populated territory. The military says it has launched more than 1,300 airstrikes since then, while Palestinian militants have launched nearly 1,000 rockets at Israel.
The use of the unmanned drone marked a new and unexpected tactic by Hamas, which has never before acknowledged having such weapons. Although it was quickly shot down, the drone represented a new level of sophistication for the militant group. In the past, Hezbollah militants in Lebanon have sent at least one drone into Israel that also was shot down.
The Israeli military said the drone was shot down in mid-flight by a Patriot surface-to-air missile along the southern Israeli coastline, near the city of Ashdod.
A senior military official said that Israel was aware that Hamas possessed drones, and that Israel has targeted Hamas drone facilities in Gaza before. Speaking on condition of anonymity under military guidelines, he would not say how far the plane flew or discuss its capabilities.
In a statement to media, Hamas claimed it launched three drones at Israel on Monday, though the military insisted there was only one. Hamas released a video of what it said was the aircraft, about five meters (yards) long, with each wing holding two unidentified missiles. The veracity of the video could not be independently confirmed.
Drones can refer to a range of unmanned aircraft, ranging from rudimentary airplanes to advanced aircraft capable of firing weapons or conducting sophisticated surveillance missions.
Hamas said it has developed two types of drones - one for intelligence gathering, and one for delivering munitions. It also said it lost contact with one of the drones and that the targets included the Israeli Defense Ministry compound in Tel Aviv.
It was the first time the militant group publicly acknowledged it has drones in its arsenal.
The use of drones with an offensive capacity could inflict significant casualties - something the rockets from Gaza have failed to do, largely because of the success of the Israeli military's 'Iron Dome' air defense system in shooting them down.
"Hamas is trying everything it can to produce some kind of achievement and it is crucial that we maintain our high state of readiness," Israeli Defense Minister Moshe Yaalon said. "The shooting down of a drone this morning by our air defense system is an example of their efforts to strike at us in any way possible.''
Fighting continued Monday as two Israeli airstrikes struck the southern Gaza city of Khan Younis, killing four Palestinians, according to officials from the city's European Hospital.
The officials said Saddam Moamar, his wife Hanadai, and his father Mousa were killed by an airstrike that hit their house. Their neighbor, Maher Abu Mor, was killed in another airstrike while standing on the rooftop of his home, the officials said, speaking on condition of anonymity because they were not authorized to talk to media.
It was not immediately clear why their homes were targeted.