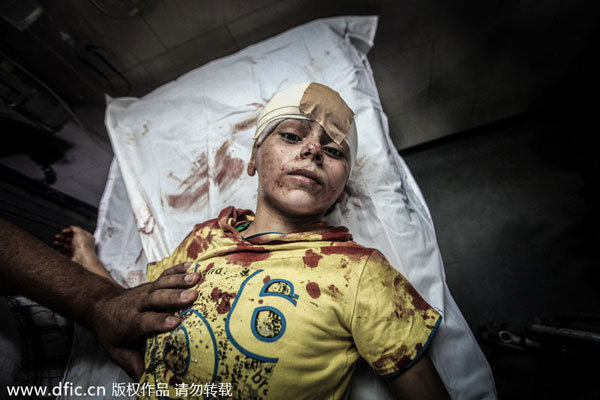 A injured Palestinian boy lays on a bed at Al Shifa Hospital in Gaza City on July 15, 2014. [Photo/IC]
GAZA -- At least two Palestinians were killed and three more injured in an Israeli airstrike on the southern Gaza Strip town of Rafah at predawn Wednesday, medics said.
Ashraf al-Qedra, spokesman of health ministry in Gaza, told reporters that Israeli war jets struck a car in the town and killed two men in the car and injured three bystanders. Two of the injured were said to be in critical condition.
Witnesses said they saw flames of fire and smoke coming out of the car after the airstrike.
The Gaza-based health ministry said in a press statement that the death toll since the beginning of the large-scale Israeli operation on the Gaza Strip had risen to 196 people, plus 1,500 injuries.
Meanwhile, Gaza militants, including Hamas, claimed responsibility of launching more long-range and medium range rockets into northern, central and southern Israel.
Israeli war jets intensified its airstrikes on more targets in the Gaza Strip and destroyed dozens of houses, including the house of senior Hamas leader Mahmoud al-Zahar in Gaza city.
Witnesses said that al-Zahar was not at home when the Israeli war jets struck it with two missiles and turned it into rubble. It is the second time that Israel destroyed his house. al-Zahar escaped unhurt another bombardment carried by the Israeli forces, but both his wife and his son were killed.