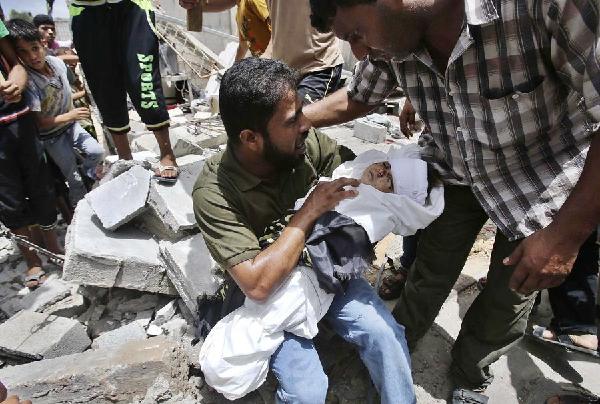 The father of four-year-old Palestinian boy Muayed al-Araj, who hospital officials said was killed in an Israeli air strike on his family's house, carries Muayed's body as he sits on the rubble of his house during Muayed's funeral in Khan Younis in the southern Gaza Strip July 13, 2014.[Photo/Agencies]
WASHINGTON - Israeli Prime Minister Benjamin Netanyahu rebuffed international calls for a ceasefire while defending his country's offensive in Gaza during appearances on US television on Sunday.
Netanyahu appealed for sympathy for Israelis under siege from militant rockets as a warning siren followed by an all-clear signal punctuated his interview on CBS' "Face the Nation."
"When we began this interview we were under bomb alert and as the minutes passed now we're told people can go out into the open air again," he said.
"This is the kind of reality we're living in. And we'll do whatever is necessary to put an end to it," he said, referring to the escalating violence between Israel and Hamas, the Islamist movement that rules Gaza.
Netanyahu urged Americans to imagine that US cities from the East Coast to Colorado, or 80 percent of the population, were under threat of rocket attack, with only 60 to 90 seconds to reach a bomb shelter. "That's what we're experiencing right now, as we speak," he said.
Netanyahu's television appearances came as thousands of Palestinians fled their homes in a Gaza town after Israel warned them to leave before threatened attacks on rocket-launching sites.
Sunday marked the sixth day of an offensive that Palestinian officials said has killed at least 160 people.
Militants in the Gaza Strip kept up rockets salvoes deep into the Jewish state and the worst bout of Israel-Palestinian bloodshed in two years showed no signs of abating as Western foreign ministers meeting in Vienna said a ceasefire was an urgent priority.
Netanyahu refused to discuss a ceasefire or give a timeline for Israel's operation in Gaza.
CALLS FOR RESTRAINT
Asked if a ground invasion was imminent, he said Israel would use any means necessary to accomplish its goal of degrading Hamas's rocket-launching capability to restore security for Israeli civilians.
"Whether we're at the beginning of the end or the end of the beginning I'm not going to tell you that right now - because we face a very, very brutal terrorist enemy," he said on "Fox News Sunday."
Former US Middle East peace envoy Martin Indyk said he did not think Netanyahu wanted a ground war in Gaza. "What he wants is an end to the rocket fire, and he's looking for ways to pressure Hamas to do that," Indyk said on NBC's "Meet the Press."
Secretary of State John Kerry spoke with Netanyahu by telephone, telling him the United States was prepared to broker a ceasefire, a senior State Department official said.
US-led peace talks between Israel and the Palestinians collapsed in April. Indyk, who stepped down shortly afterward, said Washington should continue to press for a ceasefire.