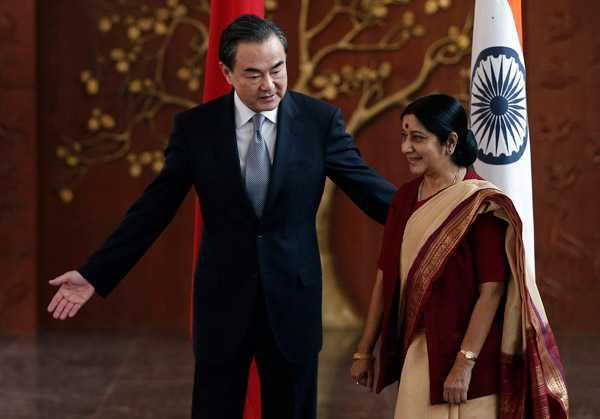 Visiting Foreign Minister Wang Yi greets his Indian counterpart Sushma Swaraj in New Delhi on Sunday. [Photo/Agencies]
Neighbors see great potential in relations, minister says
Chinese President Xi Jinping is expected to visit New Delhi later this year, said China's Foreign Minister Wang Yi druing an interview with the Hindu Newspaper.
Wang is starting a two-day visit to India as the special envoy of Chinese President Xi Jinping.
Interview: Wang Yi


Key Points from the foreign minister's interview with the Hindu Newspaper
Leader's visit: President Xi Jinping is expected to pay an offi cial visit to India this year.
Border issue: The boundary question is indeed a diffi cult one, but with strong will and resolve, we will eventually find a solution. Even if we cannot resolve it for the time being, we can at least manage it eff ectively, not allowing it to aff ect the normal development of our relations.
Economic ties: Agreements about China setting up industrial parks in India are expected to be fi nalized and signed soon. China has sent a delegation to India to inspect the prospective sites of the zones.
Terror fight: China highly vappreciates India's position to stand together with China and publicly condemn the terrorist attacks that hit China recently.
He met India's new Foreign Minister Sushma Swaraj on Sunday, and on Monday, he is expected to call on Indian President Pranab Mukherjee and Prime Minister Narendra Modi, who led his Bharatiya Janata Party to a landslide victory in the lower house, AFP reported.
During the meeting with Swaraj, Wang described the Sino-Indian relationship as "the most dynamic bilateral relationship with the largest potential in the 21st century".
Wang is coming "to engage with our leadership and we will take it from there", Indian Foreign Ministry spokesman Syed Akbaruddin said at a news briefing last week. New Delhi will be "in a listening mode to engage and see".
Saibal Dasgupta, veteran Beijing correspondent for The Times of India, said Modi makes quick decisions and building a smooth connection between his new leadership with Beijing did not require much time for consideration.
Wang's agenda shows that China and India "are not afraid of being frank" on a range of issues to be addressed, and there will be better understanding between the two nations, according to Dasgupta.
Days before the visit by China's top diplomatic envoy, Beijing clearly stated its expectation of the trip to "usher in new prospects" for bilateral ties, according to Chinese Foreign Ministry spokesman Hong Lei.
After assuming office last year, Premier Li Keqiang chose India as the first stop of his first overseas tour, and President Xi Jinping is expected to pay an official visit to India this year.
Indian leaders have been invited to the events later this month in Beijing to mark the 60th anniversary of the Five Principles of Peaceful Coexistence. The nations are among the founders of the key political concept, according to Chinese ambassador to India Wei Wei.
Meanwhile, the Modi administration is expected to court Beijing's help in reviving India's stalled economy, AP said.
Media reports said Modi has visited China four times to get inspiration for upgrading industry.
"A major boost to the Indian economy cannot be achieved without impetus provided by China-Indian economic cooperation, and Modi will continue to take lessons from China's experiences of reform and opening up," said Fu Xiaoqiang, an expert on South Asian studies at the China Institutes of Contemporary International Relations.
India may look to China for lessons on manufacturing, which makes up only 15 percent of India's economy, compared with 31 percent in China, AP predicted.
In a written interview with The Hindu newspaper published on Sunday, Wang said there is vast potential yet to be tapped.
Though bilateral trade had grown 20-fold since the beginning of the century, "given our 2.5 billion population, such cooperation is still far from the scale and level that it needs to be," Wang said.
"Just like the emerging tip of a massive buried treasure that awaits your discovery, or a huge volcano that is preparing itself for a billowing eruption, much is to be expected from the cooperation between our two countries," Wang added.
zhangyunbi@chinadaily.com.cn