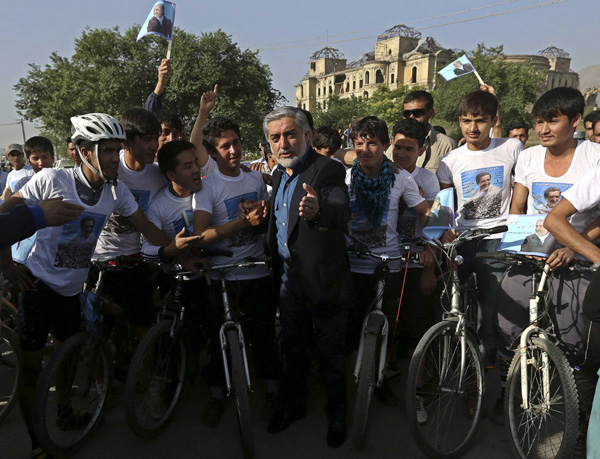 Afghan presidential candidate Abdullah Abdullah talks with a group of cyclists during the second round of the presidential candidate election campaign in Kabul June 6, 2014. [Photo/Agencies]
KABUL - Afghan presidential candidate Dr. Abdullah Abdullah escaped unhurt a twin blast which occurred in western Kabul on Friday noon, Abdullah said.
"Following a political gathering, our vehicle was struck by a mine. None of our team members in the vehicle was hurt in the explosion," Abdullah told an election meeting minutes after the incident.
The blasts occurred at around 12:10 pm (local time) shortly after a political rally ended in Ariana restaurant in western Kabul.
The meeting was attended by several political leaders and hundreds of their supporters.
The exact number of casualties remained unknown.
However, Abdullah, a former foreign minister, said several of his bodyguards were injured in the first blast, adding that none of the injured received life-threading wounds.
The attack took place as Afghanistan is preparing for the presidential runoff between Abdullah and his rival Dr. Ashraf Ghani Ahmadzi to be held on June 14.
The incident occurred as the political campaign was in full swing.