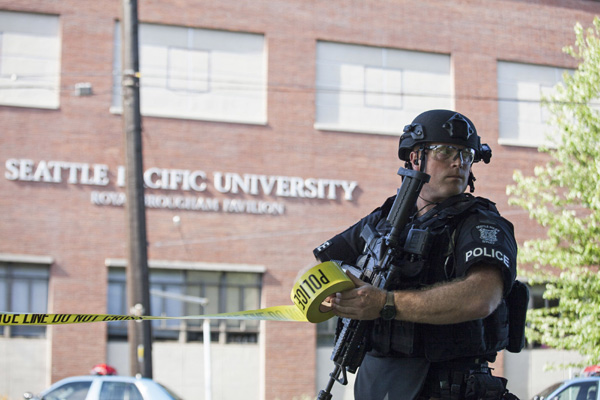 A policeman secures the scene at Seattle Pacific University after the campus was evacuated due to a shooting in Seattle, Washington June 5, 2014. [Photo/Agencies]
SEATTLE - Three people were shot Thursday afternoon on the campus of Seattle Pacific University and a suspect was in custody, police said.
Officer Drew Fowler confirmed three victims were transported for medical care after the shooting late Thursday afternoon.
The Seattle Fire Department said on its verified Twitter account that medics took four gunshot victims to Harborview Medical Center; a man and a woman had life threatening injuries, and two males were in stable condition. It wasn't clear whether the fourth person was the suspected gunman. 
Police had initially said they were searching for a second suspect armed with a handgun, but a short while later they said they were no longer looking for anyone else.
About 4,270 students attend the private Christian university, which was founded in 1891 by the Free Methodist Church of North America. Its 40-acre (16-hectare)campus is in a residential neighborhood about 10 minutes from downtown Seattle.
The university posted online that "the campus is in lockdown due to a shooting near Otto Miller Hall.'' A woman who answered the phone at the school's security office quickly disconnected, saying no one could talk.
The incident follows a spate of recent shootings on or near college campuses.
Last month, according to police, Elliot Rodger killed six people and injured seven before turning his gun on himself in a rampage in Isla Vista, California, near two universities.
Seven people were killed and three injured when a 43-year-old former student opened fire at a tiny Christian school, Oikos University, in Oakland, California, in 2012. A gunman killed five people and injured 18 when he opened fire in a Northern Illinois University lecture hall in 2008.
In 2007, 32 people were fatally shot in a dorm and classroom at Virginia Tech in Blacksburg, Virginia before the gunman, Seung-Hui Cho, killed himself.