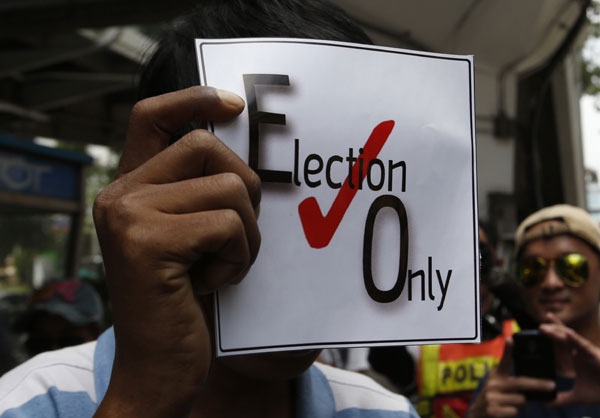 A protester against military rule briefly holds up a protest sign before he was detained at a shopping district in central Bangkok May 31, 2014.[Photo/Agencies]
BANGKOK - No election will take place in Thailand until next year following the May 22 military coup which ousted a caretaker government, according to army chief Gen Prayuth Chan-ocha.
In a nationwide televised speech Friday night, Gen Prayuth, head of the so-called National Council for Peace and Order, said he has planned to return powers to the Thai people with the running of a general election after "reforms," aimed at making " efficient, transparent" future parliament and government, have been finished next year.
It will very likely take a one-year time for a "reform council, " which is yet to be set up later this year, to finish the " reforms," details of which are yet to be formulated, according to Gen Prayuth.
"It might take more than a year or less than a year to do the reforms, depending on future situations. Only after the reform bid has been finalized will an election be held to completely return democratic rule to the people," he said.
The military council is currently promoting efforts to restore national reconciliation among opposing sides of society following years of social division among the Thais which he said had already been put to an end by the coup.
No reconciliation bid will be eventually successful without a helping hand from all sectors of society or sustainable national security and public peace, according to the army chief.
For that reason, he said, nobody should take to the street to conduct any more protest against the coup as the military is dutifully taking steps to restore peace and order, he said.
Besides Bangkok-based military units, all provincial military headquarters will manage to have the opposing sides open dialogue, bury the hatchet and foster friendly, creative attitudes toward each other, according to the army chief.
In spite of martial rule effective since earlier this month, hundreds of anti-coup protesters had recently gathered at Victory Monument and Patumwan and Rajprasong intersections where street traffic is usually congested and engaged in tense standoffs with army troops and policemen.
However, the protesters finally dispersed themselves from the scene though they vowed to come back the next day to continue on their anti-coup protest until, they said, democratic rule is returned to the country.
"It will take a few-months time from now for the National Council for Peace and Order to manage to have different groups of people reconcile with one another while the reform council will spend about a year to finish the reforms," he said.
In the meantime, he added, a national legislative assembly will be set up to pick a non-elected, interim prime minister alongside a cabinet of ministers to run the country under an interim constitution which is yet to be issued.
The army chief did not elaborate as to who will be named interim premier or members of the national legislative body, however.
Gen Prayuth, himself being tipped among several others to become interim premier, commented that nobody will be given the top post of government until after the next few months or until after the reconciliation bid has been done.
The head of the military council earlier said he would not keep the powers to himself for too long and reiterated that he had deemed it "necessary" for the military to stage the coup to deny democratic rule for a period of time to restore "national security and public peace."
The six-month-long political protests may have triggered street chaos and possibly have culminated in civil war if the military had not staged the coup to prevent it, he said.