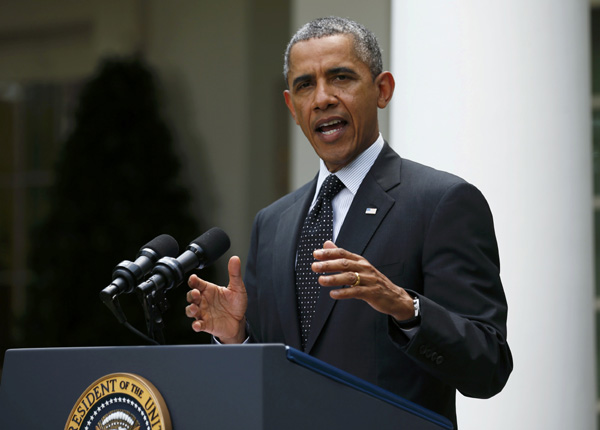 US President Barack Obama delivers an announcement on the number of US troops that will remain in Afghanistan after the formal troop drawdown at the end of this year, in the White House Rose Garden in Washington, May 27, 2014. [Photo/Agencies]
WASHINGTON - US President Barack Obama said on Tuesday he planned to leave 9,800 American troops in Afghanistan beyond 2014.
The troops will be reduced by roughly half by the end of 2015 and draw down to a normal embassy presence in Kabul by the end of 2016, Obama said at the White House.
After 2014, he said, US troops in Afghanistan will have "two narrow missions": training Afghan forces and supporting counter-terrorism operations against the remnants of al-Qaida.
"We have now been in Afghanistan longer than many Americans expected," Obama said. "Now we're finishing the job we started."
Acknowledging that "Afghanistan will not be a perfect place", Obama added that "it is not America's responsibility to make it one."
Defense Secretary Chuck Hagel said in a statement he "strongly" supports Obama's decision to maintain a limited US troop presence in Afghanistan, adding that it will "help ensure that al- Qaida cannot reconstitute itself" in the country.
Obama announced the drawdown plan two days after he made a surprise visit to Afghanistan where he met with US commanders and forces.
On Tuesday, Obama also emphasized that the presence of US troops is tied to the signing of the Bilateral Security Agreement (BSA) with the Afghan government. Outgoing Afghan President Hamid Karzai has refused to sign the accord.
Obama said he is "hopeful" of the signing of the BSA as the two final candidates in the runoff presidential election have each indicated that they would sign the agreement promptly after taking office.
Calling the end of US mission in Afghanistan a "new chapter in American foreign policy," Obama said it will allow the US to redirect some of the resources saved by wars to "respond more nimbly to the changing threat of terrorism, while addressing a broader set of priorities around the globe."
On Tuesday, Obama talked by phone about his Afghanistan announcement with his British, Italian and German counterparts, as well as Karzai, the White House said.
During Obama's visit to Afghanistan, he and Karzai did not meet, only spoke by phone shortly before he wrapped up the four-hour trip there Sunday.
Buck McKeon, the Democratic congressman who heads House Armed Services Committee, dismissed Obama's drawdown plan, saying it "doesn't make a lick of sense strategically" as the threat of al-Qaida still exists in Afghanistan.
"Does the president seek to replicate his mistakes in Iraq where he abandoned the region to chaos and failed to forge a real security partnership?" US news website Politico quoted McKeon as saying.
American troops withdrew from Iraq in 2011 after the US and Iraq failed to reach a security agreement to keep a small number of American force in the country. Since then, Iraq has seen a resurgence of violence.
Senate Majority Leader Harry Reid, however, said the plan "unquestionably advances our national security interests in Afghanistan."
"Make no mistake: our Armed Forces and intelligence agencies will continue to ensure that Afghanistan never again becomes a safe haven to plot attacks against America and her allies," said Reid, according to Politico.
Nearly 2,200 members of the US military have died during the Afghan war, Obama said in a remark in a Memorial Day ceremony on Monday.