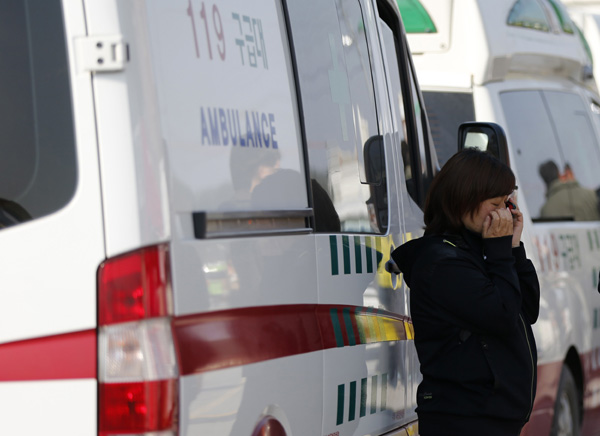 A family member of missing passengers, on board the South Korean ferry Sewol which sank in the sea off Jindo, stands next to an ambulance at a port where family members of missing passengers gathered in Jindo April 23, 2014. [Photo/Agencies]
MOKPO/SEOUL - South Korean divers swam though dark, cold waters into a sunken ferry on Wednesday, feeling for children's bodies with their hands in a maze of cabins, corridors and upturned decks as they searched for hundreds of missing.
The divers, with oxygen and communications lines trailing, can only see a few inches in front of them in the wreckage of the ship that started sinking a week ago after a sharp turn. Most of the victims were high school children, who were told to stay where they were for their own safety and were trapped.
Most of the bodies found in the last two days had broken fingers, presumably from the children frantically trying to climb the walls or floors to escape in their last moments, media said.
"We are trained for hostile environments, but it's hard to be brave when we meet bodies in dark water," diver Hwang Dae-sik said, as the funerals of 25 students were held near the capital, Seoul.
Prosecutors investigating the disaster raided the home of Yoo Byung-un, the head of a family that owns the Chonghaejin Marine Co. Ltd, the company that operated the Sewol ferry. They also raided his son's home and the office of a church with which Yoo has been associated, said a prosecutor who did not want to be identified.
The finances of Chonghaejin and its complex share structure have come into the spotlight in recent days. Yoo was jailed for fraud for four years in the early 1990s.
But it was not immediately clear how big a development this was. Korean police and prosecutors often make dramatic raids to show that progress is being made in a high-profile case.
Underwater, at the site of the sunken Sewol, divers are able to work for nearly an hour at a time as long as the oxygen lines do not snag on sharp corners of the ship's internal structure. When they use cumbersome oxygen tanks on their backs instead, they can work for about 20 minutes before an alarm bell sounds.
The Sewol sank last Wednesday on a routine trip from the port of Incheon, near Seoul, to the southern island of Jeju.
Of the 476 passengers and crew on board, 339 were children and teachers on a high school outing. Only 174 people have been rescued and the remainder are presumed to have drowned.
The confirmed death toll on Wednesday was 146, many found at the back of the ship on the fourth deck.
Hwang said his team had retrieved 14 bodies so far. "We have to touch everything with our hands. This is the most gruelling and heartbreaking job of my career," he said.
Captain Lee Joon-seok, 69, and other crew members have been arrested on negligence charges. Lee was also charged with undertaking an "excessive change of course without slowing down".