Mexico bid farewell on Monday to its beloved adopted son, Colombian novelist Gabriel Garcia Marquez, with thousands of fans filing past his ashes in a music-filled tribute to the Nobel laureate.
A coffee-colored urn containing his ashes was placed on a pedestal, surrounded by yellow roses - his favorite flowers - in Mexico City's domed Fine Arts Palace.
Fans streamed by to pay their last respects to the author of One Hundred Years of Solitude, taking pictures as a string quartet played classical music.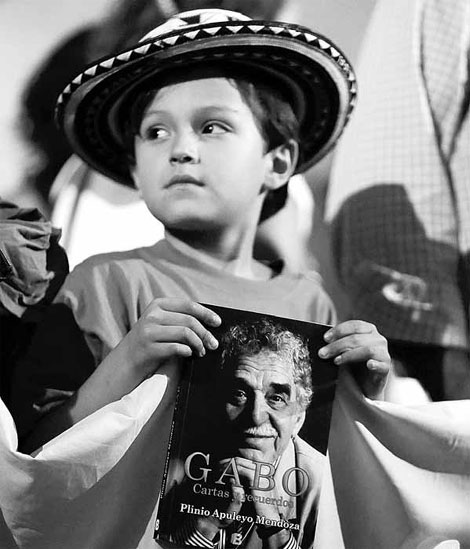 A boy stands behind a Colombian flag while holding a book on late Colombian Nobel laureate Gabriel Garcia Marquez during a public viewing of Garcia Marquez's ashes in the Palace of Fine Arts in Mexico City on Monday. Reuters
Guests applauded when his widow, Mercedes Barcha, and sons, Rodrigo and Gonzalo, stood as honor guards at the ornate cultural center, where Mexico pays tribute to its late artistic icons.
The presidents of Mexico and Colombia delivered speeches to honor the giant of Latin American literature, who influenced generations of Spanish-language writers.
"We join together to pay tribute to the one who, from icy Stockholm in December 1982, touched the world by speaking about solitude in Latin America," said Colombian President Juan Manuel Santos, referring to the day the author received his Nobel Prize.
Mexican President Enrique Pena Nieto called him "the greatest Latin American novelist of all time".
"We Mexicans love him and will always love him," he said.
Garcia Marquez, known affectionately as "Gabo", died on Thursday in the Mexico City house where he lived for decades with his wife and two sons. He was 87.
Outside, thousands of yellow paper butterflies were blown into the air, a nod to the fluttering insects that follow a man in his masterpiece of magical realism, One Hundred Years of Solitude.
"I want to thank him for the pleasure he gave me in reading books," said Joseline Lopez, a 21-year-old Venezuelan medical student who waited in line outside the palace.
"One Hundred Years of Solitude will survive 100 more years in our hearts," she said, clutching three yellow roses.
Earlier inside, some of the guests danced as a three-piece band played folksongs from his native Colombia with an accordion, drum and guacharaca, a percussion instrument.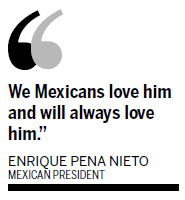 Garcia Marquez first moved to Mexico in 1961 and it was here that the veteran journalist wrote his seminal novel, a family and historical saga that was published in 1967.
He was a leading exponent of "magical realism", a style of storytelling that blends fantasy and realistic elements.
The cause of his death has not been disclosed, but he died a week after a bout of pneumonia.
Honored in homeland
Garcia Marquez was also remembered in his native Colombia.
A small march took place in front of his childhood house in the Caribbean-coast region town of Aracataca, with people dressed in white and holding marigolds in his honor.
Santos will lead a ceremony on Tuesday at Bogota's cathedral.
On Wednesday, to mark World Book Day, Colombians will have readings of Garcia Marquez's novel No One Writes to the Colonel in more than 1,000 libraries, parks and universities.
The family has not said where the author's final resting place will be, but Colombia hopes his ashes will be divided between his homeland and Mexico.
(China Daily 04/23/2014 page11)