Danish Queen Margrethe II will pay a state visit to China on April 24-28 at the invitation of Chinese President Xi Jinping.
The following is a brief introduction of the Danish monarch:
Margrethe II, born on April 16, 1940, is the queen regnant of Denmark. As the eldest child of King Frederik IX and Ingrid of Sweden, she succeeded her father upon his death on January 14, 1972.
The Act of Succession of March 27, 1953 gave women the right of succession to the Danish throne but only secondarily. On the occasion of her accession to the throne on Jan 14, 1972, Queen Margrethe II became the first Danish Sovereign under the new Act of Succession.
The Queen's motto is "God's help, the love of The People, Denmark's strength".
She spent 12 months at Copenhagen University before studying prehistoric archaeology at Cambridge between 1960 and 1961. Then she studied political science at Aarhua University between 1961 and 1962, attended the Sorbonne in 1963 and studied at the London School of Economics in 1965.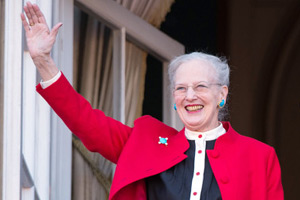 Queen Margrethe II [Photo/icpress.cn]

Besides her mother tongue Danish, Margrethe speaks French, Swedish, English and German.

She is an accomplished painter and has held many art shows. She is also interested in archaeology.

She married Count Henri de Laborde de Monpezat, a French diplomat, who afterward took the title of Prince Henrik, in June 1967. They have two sons - Crown Prince Frederik, born in 1968, and Prince Joachim, born in 1969.

In 1989, the Queen was awarded the Mother-Tongue Society's prize, and received the Adeil Order in 1990.

She made a state visit to China in September 1979 as the first Western head of state to do so after China adopted the reform and opening-up policy.