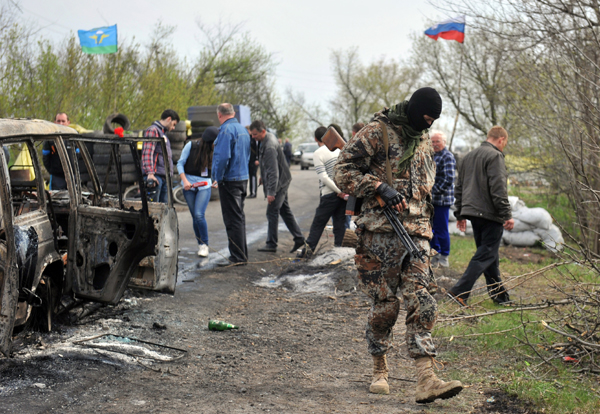 An armed pro-Russian militant looks for ammunition casings after a gunbattle near a check-point outside Sloviansk on Sunday. Three pro-Russian militants and one attacker were killed. Genya Savilov / Agence France-Presse
A deadly gunfight in a town in restive east Ukraine on Sunday shattered a fragile Easter truce, with Russia declaring itself "outraged" at the return to violence.
A local pro-Kremlin rebel leader, Vyatcheslav Ponomarev, said that three pro-Russian militants and one attacker were killed in a firefight at a roadblock close to the separatist-held town of Sloviansk.
Vladimir, a masked 20-year-old pro-Russian rebel who was at the barricade, told AFP: "Four cars pulled up to our roadblock around 1 am. We wanted to conduct a check, and then they opened fire on us with automatic weapons."
He said there were about 20 attackers, and confirmed the three rebel deaths, but was not sure of casualties on the other side.
An AFP photographer saw the bodies of two dead militants laid out in a truck near the scene.
The identity of the assailants, who escaped before militant reinforcements arrived, was not known.
The Ukrainian Interior Ministry confirmed there was an "armed clash" but gave a toll of one dead and three injured. It said police were investigating.
The gunfight broke days of relative calm.
Western-backed authorities in Kiev had announced they were suspending military operations to oust the rebels over Easter, which ends Monday. The last deadly clash was on Thursday, when three pro-Russian militants were killed by Ukrainian soldiers when they tried to attack a military base in the southeastern port city of Mariupol.
Russia's Foreign Ministry quickly seized upon the latest violence, saying in a statement soon after Sunday's Sloviansk gunbattle that Moscow was "outraged at this provocation by the fighters".
"Russia is indignant about this provocation by gunmen, which testifies to the lack of will on the part of the Kiev authorities to rein in and disarm nationalists and extremists," the ministry said in a statement.
Moscow urged Kiev to abide by an accord signed in Geneva on Thursday by Ukraine, Russia, the United States and the European Union that calls for "illegal armed groups" to lay down their weapons and end the occupation of public sites.
With pro-Kremlin rebels refusing to comply with its terms, Washington has been ratcheting up pressure on Moscow, which it sees as pulling the strings in the Ukrainian insurgency.
AFP-Reuters