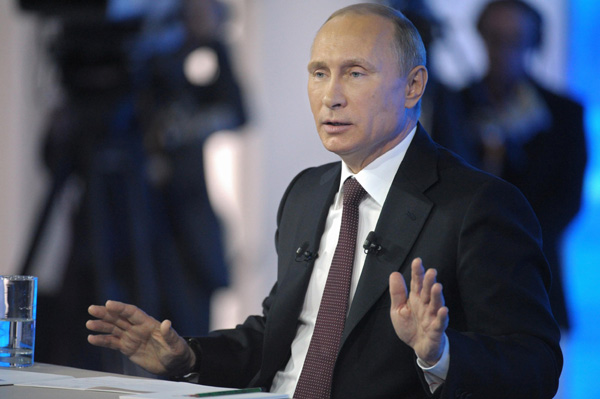 Russian President Vladimir Putin takes part in a live broadcast nationwide phone-in in Moscow April 17, 2014. [Photo/Agencies]
MOSCOW - President Vladimir Putin on Thursday urged Ukrainian authorities to begin a dialogue between eastern and southeastern regions.
"It's time for (Kiev) authorities to start dialogue with these regions' population, release inmates and find the solution via negotiation," Putin said during his annual live Q&A session with the Russian public.
He reiterated that Moscow sees the forced ouster of president Viktor Yanukovych by the Ukrainian parliament as "anti-constitutional coup."
Putin accused the Ukrainian authorities of neglecting to address the event, which took place in February, and of committing "another crime by using tanks and aviation against civilians."
He said Russia had to take certain measures to "protect people from any possibility the (Ukrainian) forces will be used against them."
These self-defense forces in eastern Ukraine could be disarmed only after the Ukrainian armed forces leave the area and the far-right movements hand out their weapons, Putin noted.
Commenting on the current election campaign in Ukraine, Putin said if it continues to take place in such "unacceptable forms," Russia will not be able to recognize the legitimacy of Ukraine's upcoming presidential polls.
"What legitimate elections are you talking about if candidates from the east are being beaten and pelted with ink all the time, and are not being allowed to meet their voters? What kind of election campaign are you talking about?" Putin said.
According to him, settlement of the situation in southeast Ukraine could be reached only via compromise.
"The issue should be settled by means of a compromise and of guarantees of legal interests of those people," Putin said, adding that agreements should be reached with those "who claim to be the power in Kiev" and negotiations should be based on current situations.