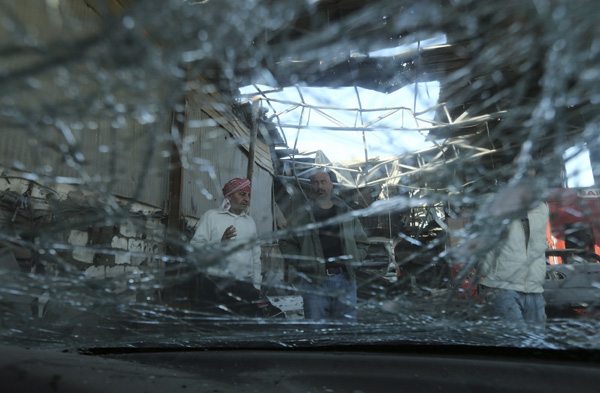 Palestinians are seen through a car window which Hamas police said was damaged in an Israeli strike on a workshop in the northern Gaza Strip April 4, 2014. 
 [Photo/Agencies]
JERUSALEM - Israeli aircraft struck targets in the Gaza Strip overnight Thursday after Palestinian militants renewed rocket fire into southern Israel, the Israel Defense Forces (IDF) said in a statement Friday.
The airstrikes came hours after four rockets were launched from the coastal enclave and landed in open areas near Sderot, an Israeli town located a mile from the border. Rocket alert sirens sent residents of Sderot and nearby communities fleeing for cover, though there are no reports of injuries or damage on the Israeli side.
Retaliatory strikes on Thursday targeted what the military called "terror sites" -- four in northern Gaza and one in central Gaza, the IDF said in a statement, adding that direct hits were confirmed.
Israeli media cited Palestinian sources who said that among the sites were two Hamas outposts.
"Civilians in southern Israel were forced to begin this month with an unacceptable barrage of rockets. Hamas has a responsibility to cease and prevent acts of aggression emanating from Gaza," Lt. Col. Peter Lerner, an IDF spokesman, said in the statement.
"The IDF will retaliate and when required initiate the use of force in order to defend Israeli civilians from these unlawful terrorist actions," he added.
The rocket fire and retaliation came after a few weeks of relative quiet on the border. Last month, 123 rockets were fired into Israel, more than half of which were launched by Islamic Jihad after three of its members were killed in an Israeli strike. Israel responded by striking dozens of targets in Gaza.
Earlier Thursday, Palestinian snipers fired at Israeli security personnel on the border fence in northern Gaza. There were no injuries, but a military vehicle sustained damage, the army said.