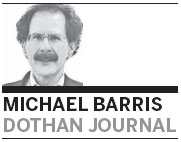 For hard-hit towns of the deep US South, the three-day US China Manufacturing Symposium underway in Dothan, Alabama means jobs.
"This is a good chance for us to bond with them (the Chinese)," Jim Giganti, the mayor of nearby Abbeville said. "We are doing everything we possibly can to bring jobs to our community."
The conference in the self-described "Peanut Capital of the World" caps off a grassroots effort by area municipalities reeling from the loss of manufacturing jobs. Some 40 communities from six states - Alabama plus Florida, Arkansas, Georgia, North Carolina and South Carolina - will be represented at the symposium that began Wednesday and ends Friday.
"It shows what can happen when people at the grassroots level work in unity with great passion and enthusiasm to create jobs," Communications Director Ken Tuck told China Daily. "Through the efforts of Dothan Mayor Mike Schmitz and the SoZo economic development group, the symposium will have a big impact on the region," Tuck said. "Add to that the business executives and government officials coming from China, and it's truly amazing what is taking place here."
Up to 400 Chinese and US government and business leaders will meet at the Dothan Civic Center in the heart of this city of about 68,000 in southeast Alabama, just 20 miles west of Georgia and 18 miles north of Florida, for an "open discussion of manufacturing expansion and job creation", Tuck said.
Among the legion of CEOs, company chairmen, mayors, and vice-mayors, will be Wu Jihua, the secretary of Dalian Xigang district committee. Wu is "committed to attend and lead a delegation from Dalian to Dothan,"Tuck said. "He will be one of the highest-ranking Chinese officials to ever visit Alabama.
The Chinese business community will be represented by around 40 companies from Shunde, a district in the city of Foshan, Guangdong province, 50 from Dalian and 10 from Shenzhen, Tuck said. Representatives from the China Chamber of International Commerce also will be on hand.
While Dothan stands to benefit greatly from the symposium, it's not just about Dothan.
Schmitz said: "This is great for our region and for the Southeast United States."
Schmitz, who made four visits to China in two years, said opportunities for decision makers to network at the symposium could lead to "serious prospects for the US."
The South has changed dramatically since its agricultural heyday. With the late 20th century boom in its manufacturing base, service economy and high technology industries, numerous automobile production plants opened in the region, including the General Motors Co manufacturing plant in Spring Hill, Tennessee. The Southland also boasts the country's two largest research parks - Research Triangle Park in North Carolina and the Cummings Research Park in Huntsville, Alabama.
But hundreds of thousands of regional factory jobs have disappeared in the past two decades due to automation and outsourcing to cheaper offshore labor markets, including China. In a 2011 survey, the South contained nine of the 10 poorest US states. Lately, though, things have picked up. In 2012, factory employment was above average in Alabama, South Carolina and Mississippi, according to the Bureau of Labor Statistics.
Meanwhile, China is showing greater interest in the US's lower labor, land, logistics and energy costs, as it faces rising labor costs at home and its central government encourages companies to look abroad to gain expertise and recognition. The South is particularly attractive because the lack of a large union presence in the region gives foreign companies flexibility in managing a workforce in line with changing demands.
So far, the South's big Chinese boosters include appliance maker Haier Group, which opened a $40 million refrigerator factory in Camden, South Carolina, a dozen years ago, and Lenovo Group, which announced plans in October to begin making ThinkPads at its center in Whitsett, North Carolina. Sany America has invested $60 million in its heavy-equipment plant in Peachtree City,
Georgia. Alabama's major Chinese project is the Golden Dragon Precise Copper Tube Group Inc, which agreed to set up a $100 million factory near Thomasville.
Dixie is famous for its Southern hospitality. It's a good bet that Chinese investment will find a warm welcome in Alabama this week.
Contact the writer at michaelbarris@chinadailyusa.com