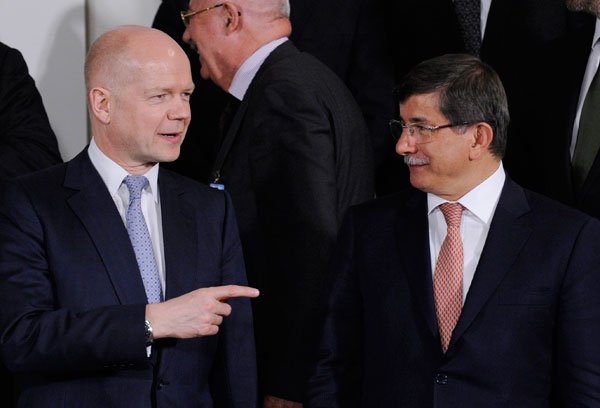 Britain's Foreign Secretary William Hague and Turkish Foreign Minister Ahmet Davutoglu (R) pose for a family photo during a NATO foreign ministers meeting at the Alliance headquarters in Brussels April 1, 2014. [Photo/Agencies]
LONDON - British Foreign Secretary William Hague on Wednesday welcomed his country's ratification of the Arms Trade Treaty (ATT), the British Foreign and Commonwealth Office (FCO) said Wednesday.
After more than 10 years of campaigning and more than 7 years of negotiations, Britain ratified the Arms Trade Treaty on Wednesday, according to the FCO.
"If these rules are implemented globally and effectively, they have the power to stop the arms from reaching terrorists and criminals, and fuelling conflict and instability around the world," Hague said.
The treaty, adopted by the UN General Assembly on April 2, 2013, is the first international pact to regulate trade in conventional arms, like small arms, battle tanks, combat aircraft and warships.