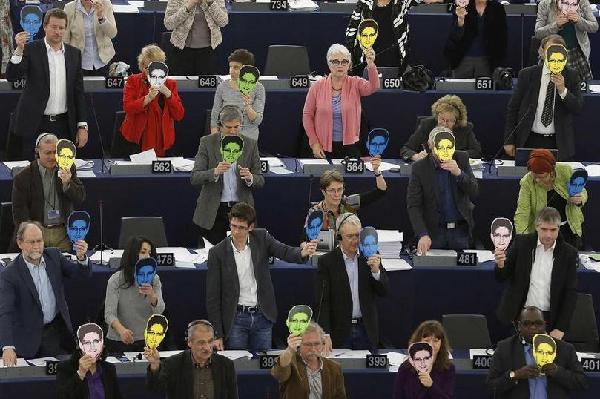 Members of the group of the Greens/European Free Alliance of the European Parliament hold differently coloured portraits of former U.S. spy agency NSA contractor Edward Snowden, during a voting session on the US National Security Agency (NSA) surveillance programme and its impact on the fundamental rights of European Union (EU) citizens, at the European Parliament in Strasbourg, March 12, 2014. [Photo/Agencies]
WASHINGTON  -- US President Barack
Obama
on Thursday unveiled his proposal to change the National Security Agency's controversial surveillance program that has collected Americans' phone metadata in bulk, offering support to let telephone companies hold the data.
"Having carefully considered the available options, I have decided that the best path forward is that the government should not collect or hold this data in bulk. Instead, the data should remain at the telephone companies for the length of time it currently does today," said Obama in a statement issued by the White House.
According to his proposal, the US government still has access to such data, but should obtain the data with individual orders from the Foreign Intelligence Surveillance Court.
"I believe this approach will best ensure that we have the information we need to meet our intelligence needs while enhancing public confidence in the manner in which the information is collected and held," said Obama, who is currently visiting Europe.
Obama said his team has been in touch with key Congressional leadership and he urged the Congress to approve the legislation authorizing the change of the program quickly. He has directed the Justice Department to seek a 90-day reauthorization of the existing program.
Former NSA contractor Edward Snowden's disclosures of the NSA surveillance programs since last summer have stirred up controversy and criticism at home and abroad and triggered a crisis for the Obama administration in relations with its foreign allies.
Obama offered a series of proposals to change the NSA's controversial surveillance practices in January. Highlights of his proposals included pulling back part of the NSA's bulk collection of US citizens' phone records. He directed the Justice Department and the intelligence community to develop options for a new approach of the domestic phone collection without the government holding the metadata before March 28.