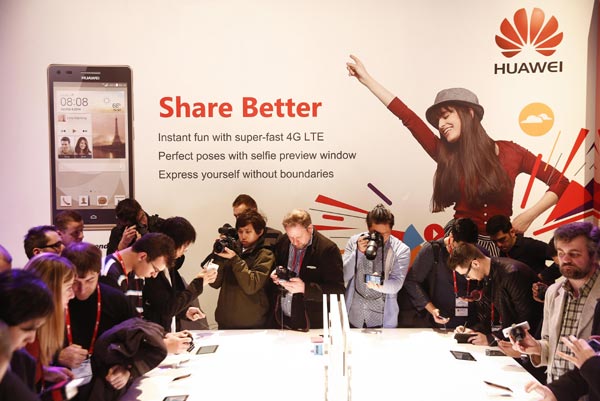 Attendees inspect and photograph the new MediaPad M1 devices during a Huawei Technologies Co Ltd news conference ahead of the Mobile World Congress in Barcelona, Spain, in February. Huawei's products and solutions are used in more than 170 countries, serving about one-third of the global population. Bloomberg
Explanation is demanded after agency accused of infiltrating firm's servers
Beijing wants a clear explanation from Washington over a report that the US National Security Agency infiltrated servers in the headquarters of Chinese telecommunications giant Huawei Technologies Co Ltd, a Chinese Foreign Ministry spokesman said on Monday.
China is seriously concerned about the spying allegations, Hong Lei, the spokesman, said at a regular briefing.
Huawei Technologies condemned the alleged infiltration, which was reported by The New York Times and the German magazine Der Spiegel over the weekend.
The reports were based on information provided by Edward Snowden, a former NSA contractor who has, since last June, been revealing the agency's massive global surveillance programs, including claims it created "back doors" into networks maintained by Huawei.
Charles Ding, president of Huawei North America, said Huawei condemns initiatives to penetrate corporate networks, to monitor corporate emails and to steal proprietary information about its products in order to exploit those products in other networks.
"Like any other telecom company, Huawei is opposed to any action that threatens cybersecurity. We urge governments, industry and customers of all nations to work together to tackle the global challenge of cybersecurity," Ding said.
He said Huawei has maintained an excellent record in cybersecurity. "Like other companies, Huawei has persisted in thwarting outside attacks on our internal networks. We are further improving and strengthening our infrastructure," Ding said.