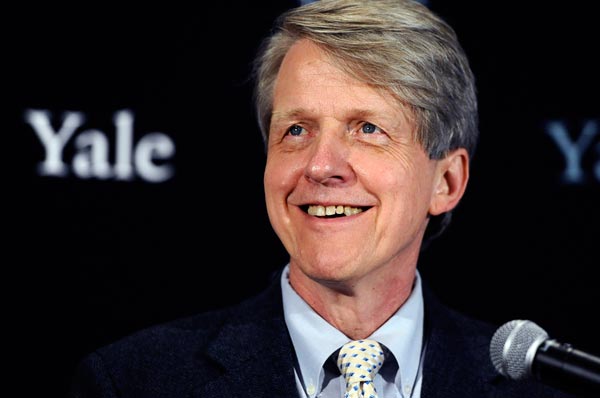 Economist, author and Yale University professor Robert Shiller smiles at a news conference in New Haven, Connecticut, Oct 14, 2013 . [Photo/dfic.cn] 
Robert Shiller might know he is hot in China, but he probably doesn't know just how hot.
At the second Nobel Economists Summit of China, which he attended over the weekend, he seemed overwhelmed by the number of questions thrown at him - along with the occasional request for an autograph - from journalists who usually try to be seen as professional.
Given this was his first China trip after receiving the Nobel Prize in Economics last year, and factoring in Chinese people's obsession with the Nobel, the enthusiasm he received was understandable.
But he apparently still was not prepared for the type of questions he encountered.
Despite having such areas of expertise as insurance, the charitable gift tax deduction and benefit corporations, he is better known in the Middle Kingdom for his undisguised doubts about the country's skyrocketing home prices.
So, during the question-and-answer period after his speech, he was asked: "Do you think China's property market will collapse?"
As on previous occasions, Shiller again cast doubt on the high-rising prices and said there is a possibility for the bubble to burst. But unlike media reports that portray him as a resolute Dr. Doom, he did not hide his uncertainty about the issue.
And as a serious economist, he did not conceal his unwillingness and inability to predict the future, though he is known for publishing the famous book Irrational Exuberance just before the Nasdaq tumbled from its peak in 2000.
"I find it difficult to forecast these things (whether home price will fall). I don't know how to forecast when such things will happen," Shiller confessed.
Other questions followed, ranging from how he saw China's stock market, to China's Internet finance, to China's slowdown, to the possible effect that the US Federal Reserve's tapering policy might have on China.