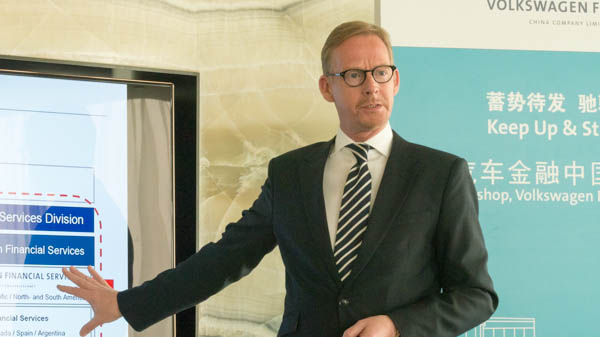 Joern Kurzrock, CEO and general manager of Volkswagen Finance China Co, gives a speech on March 26, 2013 in Beijing to journalists. [Hao Yan / chinadaily.com.cn]
Volkswagen Finance China Co is set to launch its first customized loan plan in China this year during its 10-year anniversary. It aims not only to make a car more affordable, also relieve owners from maintenance troubles.
The German financing company's new driver plan can cover safe driving training, part of the driver's license fee, and car maintenance could also be considered together as a package.
Young customers may choose ascending plans, which offers easy access to favorite cars. They may prefer to have a car earlier, and gradually pay more as their incomes grow.
"Chinese customers are really smart," said VW FC CEO and General Manager Joern Kurzrock. "A smart young man would buy a car on loan, though it is not popular traditionally."
A customer may use the money in a more efficient way to generate more profits. For example, one pays 20 percent for a car, and buys a banking service that uses the rest of the cash to make 5 percent or more earnings.
Given the Volkswagen Finance's car loan interest rate from 0 to 3.99 percent, a customer may have 3 percent paid for the loan, and still keep 2 percent earnings from the banking service continuously.
In the entire Chinese market, about 18 to 19 percent of total customers bought a car on loan last year, up from the 5 percent penetration rate in 2004.
China's financing business is climbing, as consumer demands for vehicle financing is growing, and the financing is more and more perfectly integrated into car makers' sales activities.
The VW FC also had a record year with about 230,000 new contracts, an increase of more than 50 percent compared with 2012, according to the Volkswagen Financial Services AG's annual report.
"It is not only about affordability. It's worry-free," said Kurzrock.
More Volkswagen stories: