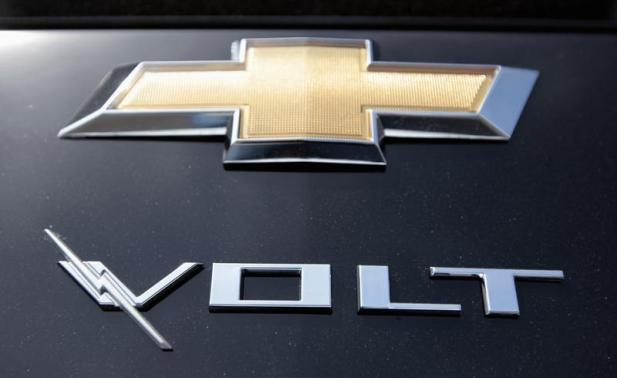 A 2012 Chevy Volt electric car is seen at the sixth annual Alternative Transportation Expo and Conference (AltCar) in Santa Monica, California September 29, 2011. [Photo/Agencies]
Hoping to boost demand for its slow-selling Volt hybrid, Chevrolet is planning to sell two versions of the redesigned 2016 Volt, including a lower-priced model with a smaller battery pack and shorter driving range, supplier sources told Reuters on Tuesday.
The second-generation Volt is slated to go into production in about 16 months at General Motors Co's Detroit Hamtramck plant, the sources said.
Chevrolet spokesman Mike Albano declined to comment on the brand's future plans but said: "Volt customers are the happiest customers in the world. We found a formula that works for them, and we're not going to deviate from that formula."
Chevrolet has sold just 58,158 Volts since the car went on sale 39 months ago, despite price cuts and heavy discounting. In comparison, the best-selling Ford F-series pickup last month sold more than 70,000.
GM on Tuesday said it will spend $384 million to upgrade tooling and equipment at Detroit Hamtramck, which it said will build the next-generation Volt "and two future products."
Detroit-area suppliers familiar with GM's plans said the future products include a new flagship sedan for Cadillac in late 2015 and a redesigned Buick LaCrosse midsize sedan in spring 2016.
The 2016 Volt, suppliers said, will share its underpinnings with the next-generation Chevrolet Cruze, which is due to begin production in late 2015 or early 2016.
The standard Volt won't deviate dramatically from the current model, which is priced from just under $35,000 and has a driving range of up to 380 miles, according to Chevrolet.
GM also wants to offer a lower-cost edition, priced from just over $30,000 that would likely have a range of less than 300 miles, with less equipment, the supplier sources said.
The strategy is similar to the one employed by electric-car maker Tesla Motors, which originally offered its Model S luxury sedan with a choice of three different battery packs at three different price points.
At just over $30,000, the "entry level" Volt would be one of the least expensive plug-in hybrids in the US market.
The 2014 Toyota Prius Plug-In starts at $30,800, while the 2014 Honda Accord Plug-In Hybrid is priced from $40,570. The 2014 Ford C-Max Energi, also a plug-in hybrid, starts at $33,745.
When the Volt was introduced in late 2010, it was priced at nearly $40,000. With sales running well below GM's expectations, the base price on the 2014 Volt, introduced last August, was slashed by $5,000 to $34,995. Chevrolet dealers also continue to offer discounted lease rates on the car.
Volt sales last year were flat, at 23,094. In the first three months this year, Volt sales dropped 15 percent to 3,606.