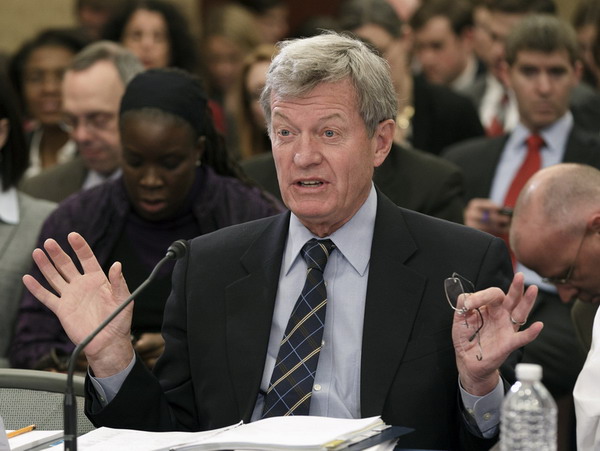 Senate Finance Committee Chairman Seneter Max Baucus speaks during a meeting of the Payroll Tax Conference Committee on Capitol Hill in Washington. [File Photo / dfic.cn] 
Since the establishment of diplomatic ties in 1979, all US ambassadors to China have had a special political resume. Max Baucus, the new US Ambassador to China, is no exception.
At a time when the media in the United States has been taunting President Barack Obama about his offering ambassadorships to his campaign donors, Baucus was confirmed with the whole Congress in favor of his appointment, a demonstration of the level trust the chairman of the Senate Finance Committee has gained as a senior political leader. >>>>
But there may be some things you didn't really know about him.
1. Age-old question
Max Sieben Baucus will be the oldest United State Ambassador to China since the establishment of diplomatic relations in 1979; China will be the "last stop" in his political journey.
2. Language barrier
He will be the first United State ambassador to China who does not understand Chinese. Compared with his predecessors, Hong Bopei and Luo Jiahui, there seem to be not too much "Chinese Elements" in Baucus. However, his rich political experience will be his best asset in China.
3. Change of surname
Max Sieben Baucus was born in Helena, Montana, on December 11, 1941. He and his younger sister lived with their mother after their parents divorced. Max changed his surname after his mother married John Baucus.
4. Most-watched video
If people search videos about Baucus, the most-watched one is of a speech he gave. In that speech, he was more like a "drunken man." He was speaking slowly, words were incoherent and meaning unclear. However, that speech cannot hide his intelligence.
5. Marriage to subordinate
He has divorced twice. When he was 70, he married Melody Hanes, the director of his office.