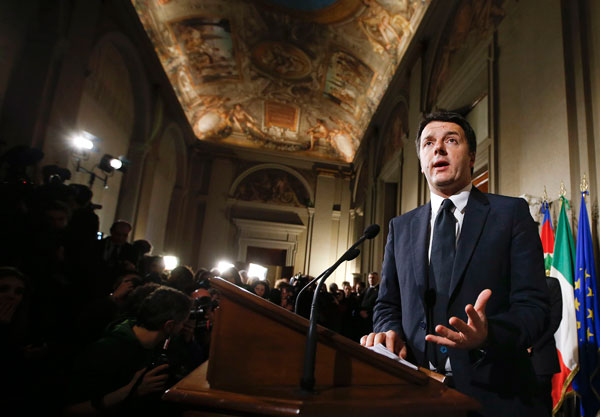 Italy's newly elected Prime Minister Matteo Renzi talks during a news conference following a meeting with Italian president Giorgio Napolitano in which he has unveiled the names of the members of his government at the Qurinale presidential palace in Rome Feb 21, 2014. [Photo/Agencies]
ROME - Italian centre-left leader Matteo Renzi promised on Friday to start
work on reforms immediately, after he named a new cabinet and formally accepted the mandate to form an administration he said would stay in place until 2018.
He confirmed that OECD Chief Economist Pier Carlo Padoan, who was forced to hurry back from Australia, would take over at the economy ministry where he will play a central role in Renzi's bid to revitalise Italy's stagnant economy.
But there were few other big names in a 16-member cabinet dominated by relatively low-profile politicians with a sprinkling of non-political officials.
With a cabinet boasting no star names, the success or failure of the government will be down to the ambitious Renzi, who forced out party rival Enrico Letta last week after a stream of criticism over the slow pace of economic reforms.
At 39, he will be Italy's youngest prime minister and heads a cabinet made up mainly of ministers in their 40s and 50s, half of them women, continuing the rejuvenation of the elderly caste which used to run Italian politics.
Renzi, who became leader of the Democratic Party (PD) only in December, said his government would begin work immediately after being sworn in on Saturday.
"We're aiming to get started on things that need to be done from tomorrow morning," he told reporters after a two-and-a-half hour meeting with President Giorgio Napolitano.
But he will have to govern with the same cross-party alliance that hampered his predecessor's efforts. Six of his ministers were part of Letta's cabinet, three of them from the small centre-right NCD party on which his parliamentary majority depends, suggesting that he may have to tread cautiously at times to keep his coalition together.
Renzi, whose main experience in government has been as mayor of Florence, has sketched out ambitious plans for the eurozone's third-largest economy and said he aimed to stay in office until the end of the parliamentary term in four years' time.
Although he has provided few details, he has promised to tackle electoral and constitutional reform, make the labour market and tax systems more efficient and overhaul the bloated public administration all within four months.
With a fractious parliament and many ministers having to learn how to handle a complex administration as they go, the challenge is considerable.
"There's a need to move quickly on reforms but people forget that to get reforms done in Italy requires very specific skills and there's no guarantee that a good economist makes a good economy minister," said Alberto Mingardi, director general of the free-market think tank Istituto Bruno Leoni.