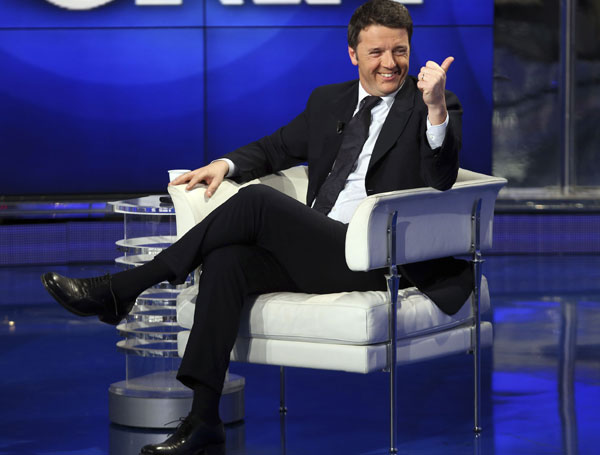 Italy's centre-left Democratic Party (PD) leader Matteo Renzi gestures as he appears as a guest on the RAI television show Porta a Porta (Door to Door) in Rome in this January 21, 2014 file photo.[Photo/Agencies]
Rome  -- Italians kept a watchful eye on the last political consultations that took place in Rome on Saturday, waiting for a new prime minister to be appointed.
Speculations are high that 39-year-old center-left Democratic Party (PD) chief Matteo Renzi would be given the mandate to form a new cabinet, since he is leader of the largest party in parliament.
"Consultations have been intense and intentionally very short, in order to give as much time and serenity as possible to the person who will be given the mandate," Italian President Giorgio Napolitano told reporters after the last meeting.
Napolitano run indeed a very swift round of talks with all parliamentary forces, in order to minimize political uncertainty and give a government to the country as soon as possible.

Talks began on Friday afternoon, few hours after the resignation of prime minister Enrico Letta, and ended on Saturday night.
Therefore, speculation were high that Renzi would be appointed on Saturday evening already.
The New Center-Right (NCD) leader Angelino Alfano, however, asked for a new government to be "not markedly leftist" and said his party was ready to work with Renzi, but it would take more than the "expected 48 hours" to agree on a new ambitious reform agenda.
The NCD split from Silvio Berlusconi's Forza Italia party last year. It is a small party, but it would be necessary to Renzi to form a new majority, as it had been in the outgoing left-right coalition.
Alfano's remarks, therefore, sounded to many as a request to 'slowdown' negotiations.
Forza Italia (FI) also met with the Italian president on Saturday, and its delegation was led by former prime minister Berlusconi, expelled from parliament over a tax fraud conviction last November.
Berlusconi pledged his party would act as "responsible opposition" and it would keep faith to the agreement on a new electoral law struck with Renzi a few weeks ago.
PD's delegation, the last to be received by Napolitano, confirmed its request to have "a government that could last until the end of the parliamentary term in 2018, with Matteo Renzi as premier".
Two opposition parties, Five Star Movement (M5S) and Northern League refused to take part in the talks, because they said it would be a meaningless 'ritual' and the result already decided. Anti-establishment M5S also staged 'counter-consultations' on Saturday in a sign of protest, rallying supporters outside the parliament.
Renzi, mayor of Florence and elected PD secretary in December, is seen as a rising young leader in Italian politics. He vowed to overhaul both the center-left party and the constitution.
He ousted his party's fellow and PM Letta with a vote of the PD leadership on Thursday, after two months of increasing criticism for the slow pace of Letta's cabinet in implementing reforms and tackling the economic crisis.
If appointed, Renzi will have to strike a deal with parliamentary allies on a new and broader reform agenda, to name the ministers of the new cabinet and make it swear in. He would then ask the parliament a confidence vote.