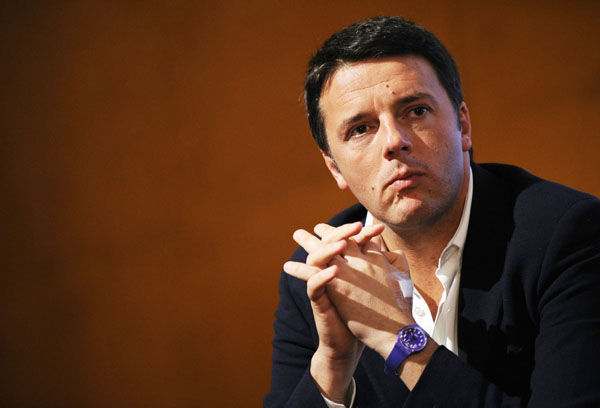 Centre-left leader Matteo Renzi attends a political meeting in Turin in this December 6, 2013 file photo. Italy's Prime Minister Enrico Letta said he would tender his resignation on February 14, 2014 opening the way for centre-left leader Renzi to take the helm of Italy's third government in less than a year. [Photo/Agencies]
ROME - Italian centre-left leader Matteo Renzi is young, dynamic and has never shied away from a challenge, but his decision to force party colleague Enrico Letta to resign as prime minister is a huge political gamble.
Renzi is certain to be asked by the president to form a government after Letta hands in his resignation on Friday.
The 39-year-old mayor of Florence has never hidden his ambition to lead Italy, but until this week it was assumed that he planned to do so by winning an election, not by a political manoeuvre that polls say most Italians disapprove of.
The new leader of the Democratic Party (PD) presents himself as a straight-talking outsider who despises Rome's baroque political deals that have seen five of the last seven prime ministers appointed without a direct mandate from voters.
He either decided that he had too much to lose by biding his time or that he has the ability to push through strong reforms to revive a stagnant economy and Italians will soon forgive him.
"Putting oneself on the line right now carries an element of risk, but a politician has the duty to take risks at certain moments," Renzi told the PD leadership committee on Thursday in his speech asking them to withdraw their backing from Letta.
An opinion poll by the Piepoli institute published on Wednesday showed only 14 percent of voters supported the idea of Renzi taking over from Letta without a vote.
The PD backed its leader, but the overwhelming vote in favor of Renzi's coup masks deep misgivings within the party.
"This is a gamble that risks damaging not only Renzi, but also the PD and the country," said Giuseppe Civati, a high profile deputy who was defeated by Renzi in a primary for the party leadership in December.
Renzi will be the youngest head of government in the European Union. Not only has he never run for prime minister but he has never even been elected to parliament and will be the first prime minister not to have a seat since former central bank governor Carlo Azeglio Ciampi in 1993.
Having gained power without a direct mandate, Renzi knows he will be even more criticized if his government flounders. Yet one thing he has never lacked is self-confidence.
Recognized as a superb communicator, he cultivates a youthful image, likes to talk and dress casually and is often described as brash, cocky and lacking in substance.
Known for arriving at public events in Florence on his bicycle, Renzi prefers to gulp down coca-cola and pizza rather than dine in the discreet Rome restaurants traditionally favored by senior Italian politicians.
In a popular impersonation by Italy's best-known comedian, Renzi captivates his audience with a mesmerizing sequence of catchy but totally meaningless phrases.