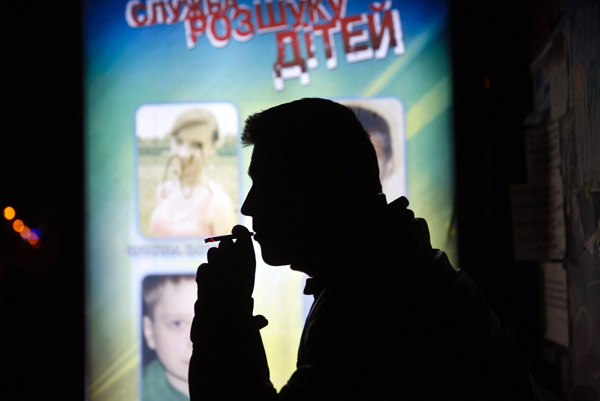 Anti-government protester smokes a cigarette in Kiev's Independence square late February 20, 2014. [Photo/Agencies]
FALLEN COMRADES
In Kiev, demonstrators on Independence Square held a vigil after dark for fallen comrades, lit by mobile phone screens held aloft.
Medics carried bodies on stretchers through lines of protesters who chanted "Heroes, heroes" to the dead.
Though armed militants on the barricades tend to be from the far-right fringe, the opposition has broad support. But many Ukrainians also fear violence slipping out of control:
"This is brother fighting brother," said Iryna, a local woman walking to Independence Square to donate syringes for blood transfusions. "We need to realise we're all one people."
Kiev residents emptied bank machines of cash and stockpiled groceries, with many staying off the streets.
In a sign of faltering support for Yanukovich, his hand-picked head of Kiev's city administration quit the ruling party in protest at bloodshed.