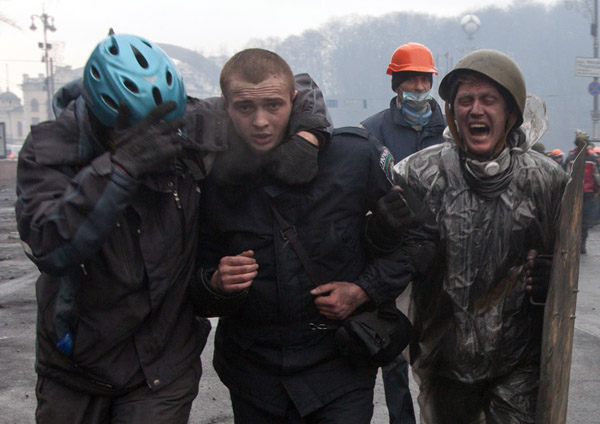 Interior Ministry members in plain-clothes who were detained by anti-government protesters during clashes, are escorted out after they were granted freedom in central Kiev February 21, 2014. [Photo/Agencies]
KIEV - Ukrainian President Viktor Yanukovich said on Friday a deal to resolve his country's political crisis had been reached with pro-European opposition leaders after the worst violence since Soviet times, but France urged caution.
After all-night negotiations mediated by visiting European Union foreign ministers, the presidential press service said an agreement would be signed at noon (1000 GMT) but gave no details.
French foreign minister Laurent Fabius, who is involved in the mediation attempt, said the opposition needed to consult.
"The opposition wants to consult with some of its members, which is entirely understandable," Fabius said in a live interview on Europe 1 radio. "In this sort of situation, as long as things haven't really been wrapped up, it's important to remain very cautious."
Anti-government protesters encamped in Kiev's central Independence Square were deeply sceptical of any announcement from the Russian-backed president.
After 48 hours in which the fate of Ukraine was fought out in the square, with at least 75 people killed, the Russian-backed Yanukovich was rapidly losing support and faced the risk of civil war or even a break-up of the sprawling country of 46 million.
As the president's position weakened rapidly, the deputy chief of the armed forces resigned and opposition deputies in parliament voted to overturn severe anti-terrorist laws enacted by Yanukovich's government this month and ordered security forces back to barracks.
In another sign of the severity of the crisis, ratings agency Standard & Poor's cut Ukraine's credit rating for the second time in three weeks on Friday, citing the increased risk of default.
Polish Foreign Minister Radoslaw Sikorski, in Kiev with his German and French counterparts, tweeted a few minutes before the presidential announcement that the talks had been suspended.
"After negotiations through the night, talks ended at 7:20 (0520 GMT)," Sikorski said via his Twitter account.
The ministers were trying to broker a deal on a temporary government and early elections this year after gun battles between police and protesters caused the worst bloodshed since Ukraine emerged from the collapsing Soviet Union 22 years ago.
Three hours of fierce fighting on Thursday in which protesters recaptured the square, known as Maidan or "Euro-Maidan", left the bodies of over 20 civilians strewn on the ground, a short walk from Yanukovich's office.
France's foreign minister left for Beijing during the night after saying there was still no agreement over a proposed road map to ease the crisis, which erupted in November after Yanukovich abandoned a proposed trade deal with the European Union and turned instead towards Moscow.
"There is no agreement for now, the negotiations are very difficult and we are working to reach a peaceful solution," Laurent Fabius told reporters.
Sikorski and German Foreign Minister Frank-Walter Steinmeier stayed on in Kiev on Friday to try to secure a deal.
"We have to find every way to see how we can put a new government in place, think about elections and see how we can end the violence, but at this moment there is no solution," Fabius said.