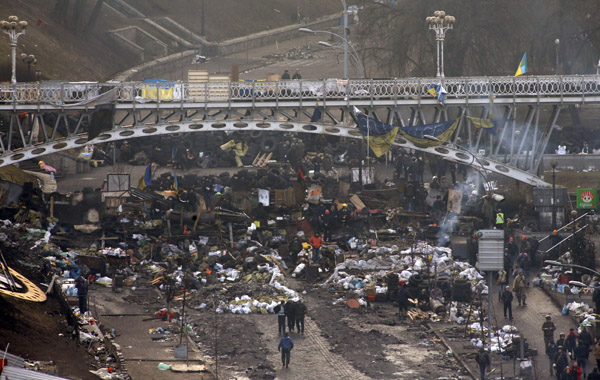 A man holds the hand of his dead son during the transfer of over a dozen of corpses from a hotel lobby to a local hospital following clashes with riot police at Independence Square in Kiev February 20, 2014. [Photo/Agencies]
PETROL BOMBS
Earlier in the day, riot police were captured on video shooting from a rooftop at demonstrators in the central plaza. Protesters hurled petrol bombs and paving stones to drive the security forces off a corner of the square the police had captured in battles that began two days earlier.
The health ministry said 75 people had been killed since Tuesday afternoon, which meant at least 47 died in Thursday's clashes. That was by far the worst violence since Ukraine's independence.
The trio of visiting foreign ministers met Yanukovich and the opposition after EU colleagues in Brussels imposed targeted sanctions on Ukraine and threatened more if the authorities failed to restore calm.
In further diplomatic efforts, US President Barack Obama spoke to German Chancellor Angela Merkel who in turn discussed Ukraine with Russian President Vladimir Putin.
Putin "stressed the critical importance of an immediate end to bloodshed, the need to take urgent measures to stabilise the situation and suppress extremist and terrorist attacks" the Kremlin said - sharing Yanukovich's view that he faces a coup.
The White House said Obama and Merkel agreed it was "critical" US and EU leaders "stay in close touch in the days ahead on steps we can take to support an end to the violence and a political solution that is in the best interests of the Ukrainian people". Earlier this month, bugged and leaked diplomatic phone calls exposed EU-US disagreement on Ukraine.
The EU plan "offers a chance to bring an end to violence," Polish Prime Minister Donald Tusk said in Warsaw, adding that Yanukovich was willing to hold rapid elections to parliament and the presidency - the latter something Yanukovich has so far appeared reluctant to consider, a year before his term ends.