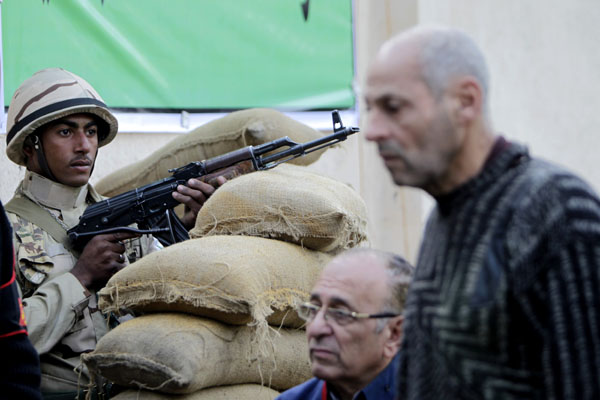 A soldier tries to control a queue waiting to vote outside a polling centre in a referendum on Egypt's new constitution in Cairo January 14, 2014. Egyptians began voting on Tuesday in a constitutional referendum, the first ballot since the military overthrew Islamist president Mohamed Morsi. [Photo/Agencies]
CAIRO - Egyptians started casting their votes on Tuesday on the country's new draft constitution, which is widely seen as a milestone during Egypt's political transition after Islamist president Mohamed Morsi was ousted last July.
The two-day referendum opened at 9 am local time (0700 GMT) in the country's 27 governorates and was scheduled to close at 9 pm (1900 GMT).
The new constitution is a prior stage in the country's future roadmap after Morsi's ouster by the military following mass protests against his one-year rule and his Muslim Brotherhood group, which has recently been declared by the interim government as a "terrorist organization."
If the draft constitution is approved, Egypt will go through parliamentary and presidential elections, and the post-Morsi transitional period will come to an end in mid-June, 2014, six months after the referendum.
The new constitution is meant to replace the one drafted and approved under the ousted Islamist president Morsi and his group in late 2012.  
A few minutes before the referendum kicked off, a bomb exploded outside a court in Giza, part of Greater Cairo, causing no casualties.
Although a lot of Egyptians consider a new constitution a prerequisite for stability and security in the turmoil-stricken country, Islamists in general and the Brotherhood in particular, who condemn Morsi's ouster as a coup, decided to boycot the constitutional referendum as "illegitimate."
Since Morsi's ouster, Islamists have been holding protests against the current interim leadership, especially after mid- August 2013 when the security forces dispersed two major pro-Morsi sit-ins in Cairo and Giza, leaving about 1,000 people dead. The police also arrested thousands of Morsi supporters, including leading Brotherhood members.
Only one day before the referendum, the prosecution referred over 1,200 Islamists to criminal court over charges of storming two police stations in Menia governorate south of the capital Cairo.
Experts expect a huge turnout and a sweeping "yes" vote in the constitutional referendum, signifying popular support for the military and its chief, Defense Minister Abdel-Fattah al-Sisi.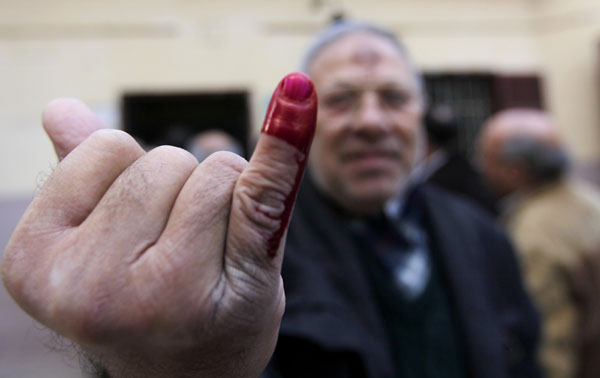 An Egyptian man shows his ink-stained finger after voting during a referendum on the new Egyptian constitution at a polling station in Cairo January 14, 2014.[Photo/Agencies]