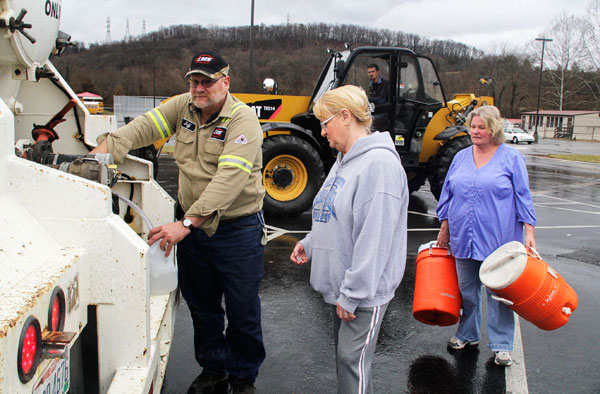 Putnam County residents fill up containers of water at an emergency distribution centre set up at Poca High School in Poca, West Virginia, Jan 11, 2014. Up to 300,000 West Virginia residents were told not to drink tap water Jan 10, 2014 after a chemical spill called its safety into question, and health officials said water in the affected area should only be used for flushing toilets and fighting fires. [Photo/Agencies]
Five Admitted To Hospitals
Secretary Karen Bowling of the state Department of Health and Human Resources said 73 people had gone to area emergency rooms and five had been admitted to hospitals for observation.
Their symptoms included nausea, vomiting, dizziness, diarrhea, rashes and reddened skin, officials said.
Water carrying the industrial chemical has an odor like licorice or anise. Though not highly lethal, the level that could be considered safe has not been quantified, McIntyre said.
The contamination has forced area restaurants to close.
"What we're working on is a plan to be able to allow businesses to be able to present plans for potable water," said Dr. Rahul Gupta, the health officer at the Kanawha-Charleston Health Department.
"We'll review those plans and after we verify, we'll reopen businesses on a case-by-case basis. We have begun that process already," Gupta said.
Residents endured another day without access to running water, and for some the wait was too long.
Russell Anderson, who lives down the street from the spill, said he spent his Saturday stocking up on bottled water supplies at a Rite Aid drugstore.
"It's been a real pain," he said. "I just took a shower yesterday. I'm fighting a cold right now and I just couldn't go without, so I took my chances."
Local officials helping out with distribution of bottled water said they have had a hard time keeping up with demand.
"Really the biggest challenge has been running out and having to wait 10 to 15 minutes before we can get some more," said Kanawha County Sheriff Deputy Jed Walls.