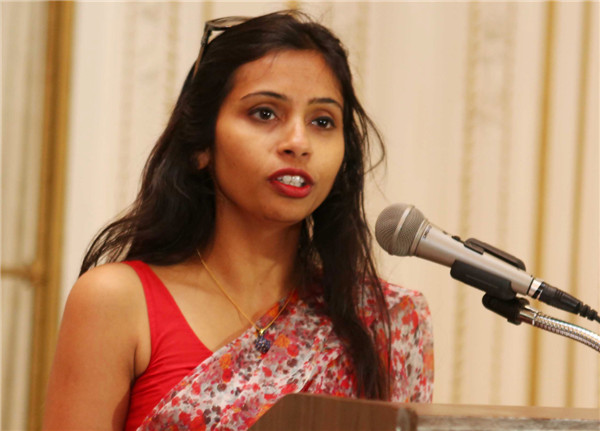 India's Deputy Consul General in New York, Devyani Khobragade, attends a Rutgers University event at India's Consulate General in New York in this June 19, 2013 file photo. [Photo/Agencies]
NEW YORK/WASHINGTON - An Indian diplomat whose arrest and strip-search caused a major rift in US-Indian ties will leave the United States on Thursday, her lawyer said, after she was effectively expelled as part of a deal in which she was granted diplomatic immunity from charges of visa fraud and lying about underpaying her housekeeper.
Devyani Khobragade, who was deputy consul-general in New York, was arrested Dec 12 and charged with one count of visa fraud and another of making false statements about how much she paid the housekeeper.
Her arrest set off protests in India amid disclosures that she was strip-searched on the day of her arrest. The dispute soured the broader US-India bilateral relationship, leading to the postponement of two visits to India by senior US officials and another by a US business delegation.
Khobragade's lawyer Daniel Arshack said she planned to return to India on Thursday night.
"She knows she has done no wrong and she looks forward to assuring that the truth is known," he said in a statement.
The planned departure came the same day a grand jury in New York indicted her for visa fraud and making false statements. She had been engaged in plea talks prior to the indictment, prosecutors said in a Jan 6 court filing.
While both New Delhi and Washington stressed the importance of their bilateral relationship during the crisis, it took weeks of complex wrangling to find a workable solution that would keep both sides relatively happy.
A US government official said Washington accepted a request by India to accredit Khobragade at the United Nations and then asked New Delhi to waive the diplomatic immunity that status conferred. India denied this request, leading Washington to ask for her departure, the official said.
There was no immediate comment from the Indian Embassy in Washington or its mission to the United Nations.
Furious at the treatment of Khobragade, 39, India curtailed privileges offered to US diplomats and ordered the US Embassy to close a club for expatriate Americans in New Delhi.
On Wednesday, US Energy Secretary Ernest Moniz postponed a visit to India scheduled for next week. This move came days after US Assistant Secretary of State for South Asia Nisha Desai Biswal delayed her first visit to the country to avoid the trip becoming embroiled in the dispute.
The arresting authority, the US Marshals Service, characterized the strip search as a routine procedure imposed on any new arrestee.
While much of the focus has been on Khobragade, the cause of the nanny, Sangeeta Richard, has been taken up by a non-government organization called Safe Horizon, which campaigns for victims of abuse.
It said that although Richard's legal presence in the United States was tied to her employment, she had been granted temporary permission to remain while she cooperates with law enforcement as a victim of human trafficking.
It said Richards was likely to apply for a special "T-1" visa reserved for trafficking victims. Such a visa would be valid for up to four years and allow her to work in the United States. It can also lead to lawful permanent residence, according to the website of US Immigration and Customs Enforcement.