An ancient town in Shangri-la, a resort county in Southwest China's Yunnan province, caught fire early Saturday, local authorities said.
The blaze was under control by 2 pm, without causing injury or death.
The fire broke out around 1:30 am at the Dukezong Ancient Town, where most houses are made of wood, adding difficulties to the fire fighting, said a local government spokesman.
According to the local government, a total area of 40,000 square meters, with 335 households, was affected by the fire. 242 houses were destroyed.
The economic loss is huge, the infrastruture was ruined, a great many of cultural remains, thanka were lost in the fire.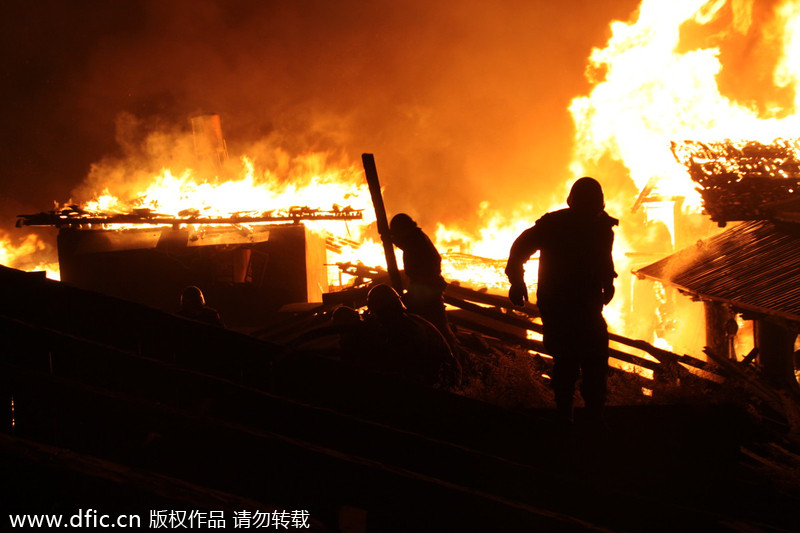 Firefighters battle the fire at the Dukezong ancient town in Shangri-la, a resort county in southwest China's Yunnan province early Saturday. [Photo/icpress]
"All the valuable things we had a thousand years were gone," said Dakpa Kelden, a hostel owner in the old town. "Now we had nothing, except the prayer wheel."
Dukezong has the world's largest Tibetan prayer wheel. It was saved, mostly because it is metal.
Dakpa Kelden's hostel and restarant were destroyed in the fire.
The local government set up a temporary shelter to host those who lost homes. More than 2,600 people were hosted in three hotels out of the old town.
Accident investigation group is still trying to find the cause of the fire and the loss of each family.
Local weather forecast departments said snow is expected on Saturday evening to Sunday and warned the evacuated people to stay warm.
Dukezong, meaning "town of the moon" in Tibetan was built 1,300 years ago and became an important landmark on the South Silk Road. It is now one of the most renowned resorts in Shangri-la, known for its well-preserved ancient Tibetan dwellings.