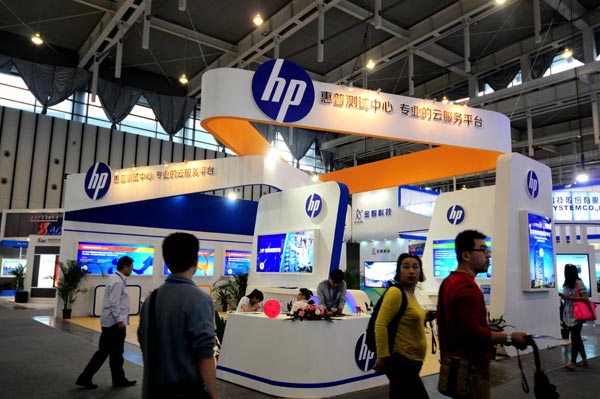 Hewlett-Packard Co's booth at a technology expo in Nanjing, Jiangsu province, in September. Provided to China Daily
The world's largest personal computer market presented additional value when the global PC market was stuck in recession for nearly two years. Although research firms such as International Data Corp and Gartner Inc predicted the market will increase by 2015, manufacturers have to survive 2014 first.
This year is poised to be difficult for most brands, especially Taiwan-based Acer Inc and ASUSTeK Computer Inc.
But some companies enjoyed value every quarter of 2013, with Lenovo Group Ltd leading the list. The company cemented the title of the No 1 PC maker in the world in mid-2013 and couldn't wait to conquer the mobile device market in the meantime. In 2014, the industry will pay close attention to Lenovo's next move to see how the Chinese company challenges Apple Inc and Samsung Electronics Co Ltd.
It's widely believed the United States companies will encounter a similar situation this year.
Transformation is the keyword Hewlett-Packard Co and Dell Inc are concentrating on this year. Both companies are looking at business opportunities other than PCs for a higher profit margin.
In China, IT consulting and services may be a big profit driver for Dell in the long run, and storage could be a gold mine for HP as the mobile Internet industry expands.
China is set to be an interesting PC market to watch in 2014 especially in terms of the big vendors in the industry.