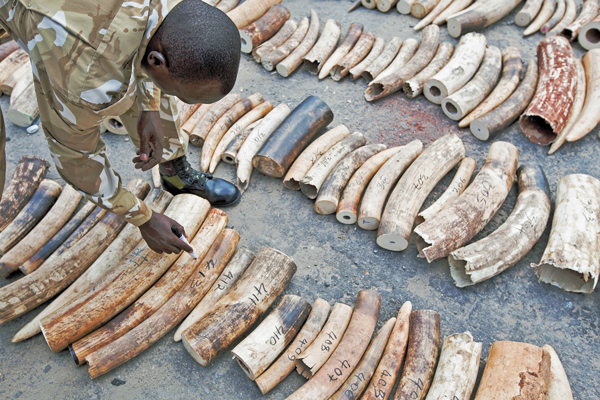 A Kenya Wildlife Service ranger inspects and numbers a confiscated ivory consignment at the Mombasa Port on Oct 8. The Kenya Ports Authority intercepted a container with illegal ivory packed between bags of sesame seeds. [Ivan Lieman / Agence France-Presse ]
China Daily publishes the e-mail addresses of its reporters along with their articles, which means I receive plenty of feedback, criticism and suggestions on the various issues I write about.
In most cases, I receive just a few comments, but one cover story I wrote last year on African conservation and China has prompted a continuous supply of e-mails, demonstrating the interest readers have in this topic.
Many of them are from outside China, saying that I should tell the Chinese people what is happening in Africa and raise their awareness, so as to prevent poaching here.
But if one can read Chinese and examine Chinese social media, one will see that public awareness and education on wildlife conservation has greatly improved, largely thanks to online social media.
Last week, the Tanzanian government detained three Chinese suspects for illegally possessing a huge haul of 706 elephants tusks in their residence in Dar es Salaam. Tourism Minister Khamis Kagasheki said, "It means 353 elephants were killed to get all those tusks."
That was the front page and headline news for all major media in Tanzania, and African people again became angry about the poaching and smuggling. But this time, Chinese people are getting even angrier, especially with their compatriots living and working in Africa.
"I really have no idea what they are thinking about, and the image of the Chinese community is being ruined by such people,"wrote one Tanzania-based Chinese businessman on Sina Weibo, China's version of Twitter.
Since the microblog became popular in China in 2009, it has turned into a significant platform for public discussion on many social issues, as well as a means of disseminating information. By the end of 2012, more than 500 million users had registered with Sina Weibo.
As soon as the news of the ivory haul had been released in Tanzania, it was translated into Chinese and posted on the Internet. The story was read by more than 10,000 users in just one day, and many netizens left messages expressing their anger over the smuggling.
Some of the messages were quite extreme, such as one saying, "Their teeth should be taken away and they should be put in the zoo". Others called for prison sentences for the suspects, similar to the 31-month jail term handed down to a Chinese woman in August for smuggling ivory products in Kenya.
Chinese expatriates working in Africa are probably the most disappointed and angry group, as they were normally perceived as the main buyers of ivory products, although most of them are innocent.
I'm a member of an online chat group organized by Chinese expatriates in Kenya. It has around 500 members, representing almost all business communities in the country.
Any member asking how to buy ivory products and take them back to China is immediately banned from the group.
While the Internet has become a place for exchanging opinions, it also serves as a public education platform in terms of wildlife protection in China.
Influential Chinese celebrities like former NBA star Yao Ming and actress Li Bingbing have visited Africa and learned how serious the poaching is. They have been publicizing their views within Africa and calling on their millions of followers to stop buying ivory products.
According to statistics provided by weibo, the platform's recent online discussion on the topic "Save the Elephants"generated more than 11.4 million messages.
Not only has the Chinese community in Africa become more aware of anti-poaching efforts, but the younger generations in China are helping to raise awareness in their own country.
Zhuo Qiang, a Chinese conservationist living in Africa, told me that a recent lecture he gave on wildlife protection was very popular with college students in China and he has helped them establish many campus associations focusing on wildlife protection and conservation across the country.
But of course, this is not and should not be a unilateral effort. Zhuo, who is director of the Eastern Africa Wildlife Society, said that African governments should also collaborate with international players to stop poaching at the very start of the supply chain.
Contact the writer at lilianxing@chinadaily.com.cn