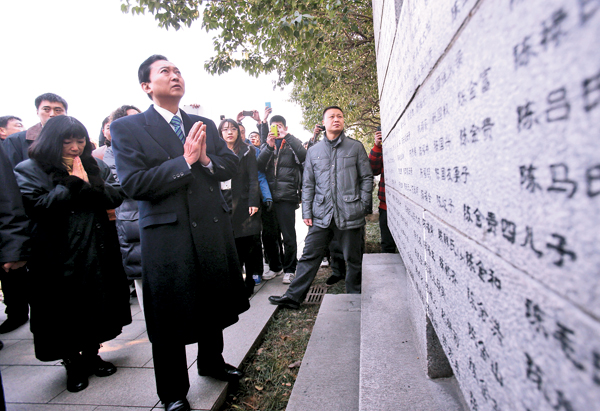 Former Japanese prime minister Yukio Hatoyama visits the memorial site to victims of the Nanjing Massacre on Thursday. [SONG QIAO/FOR CHINA DAILY] 
Hatoyama makes symbolic gesture, but Tokyo keeps 'hard-line stance'
A former Japanese leader visited a memorial site to victims of Japanese wartime aggression, but analysts were quick to reject any suggestion that Tokyo will change its policies toward China.
However, channels of communication are being used and the leader of the New Komeito Party, coalition partners with the Liberal Democratic Party, also announced a four-day visit to China next week.
Despite these developments, analysts said there was no indication of Tokyo changing policies.
Former Japanese prime minister Yukio Hatoyama, on a four-day visit to China, visited the memorial site to the victims of the Nanjing Massacre on Thursday.
Chinese records show that more than 300,000 people were slaughtered during a six-week reign of terror, starting from December 1937.
Zang Zhijun, a professor of Japanese studies at Fudan University in Shanghai, said Hatoyama's visit represents an alternative to the shrill, right-wing nationalist narrative that often emerges from Tokyo and will help improve public opinion in both countries.
Hatoyama spent more than two hours at the memorial and observed a moment's silence in front of the monument erected to the memory of the 300,000 victims.
He also visited the museum and planted a ginkgo tree in the peace park. "He clasped his hands together more than 10 times in front of the remains and the pictures of the victims to pay his respects to them," said Zhu Chengshan, head of the memorial hall.
Zhu said that Hatoyama apologized for what the Japanese army had done to the Chinese people during the war.
Hatoyama is the third former Japanese prime minister to visit the memorial site, following his predecessors Tomiichi Murayama and Kaifu Toshiki.
In a deeply symbolic gesture, Hatoyama wrote the Chinese characters for fraternity and peace on a wall at the site and signed it, but he changed one character of his name, you, to another Chinese character which sounds the same but means "friend".
Hatoyama, prime minister between 2009 and 2010, is a firm advocate of positive ties with China.
In a meeting with Chinese top political adviser Jia Qinglin on Wednesday, Hatoyama reportedly said that negotiations should be held over what he termed the disputed Diaoyu Islands and the two countries should negotiate. This stance runs counter to the administration of Japanese Prime Minister Shinzo Abe.
Japanese Chief Cabinet Secretary Yoshihide Suga on Thursday blasted Hatoyama's remarks as running against Tokyo's official stance and said the government regrets that someone who was once prime minister made the remarks.
Special coverage: