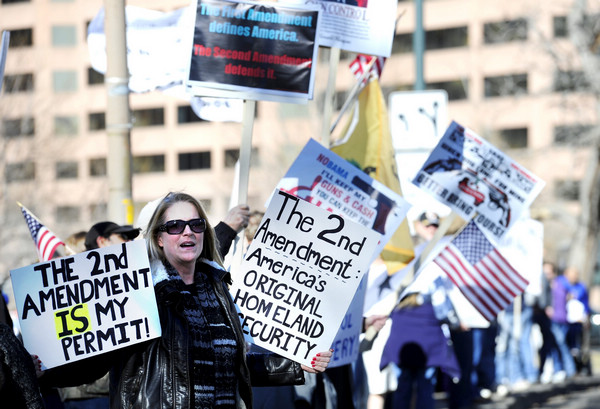 Demonstrators protest against gun control legislation outside the Colorado State Capital Building in Denver on Wednesday. [Mark Leffingwell / Agencies]
US vice-president draws heat from gun rights lobby
US Vice-President Joe Biden butted heads with the powerful National Rifle Association on Thursday in his drive to reduce US gun violence, drawing complaints from the lobby group that the White House is trying to limit gun rights.
Biden sat down for about an hour and a half of talks with an NRA representative and officials from other gun owners' groups after telling reporters he is likely to recommend background checks for all gun buyers and a ban on high-capacity ammunition clips.
The NRA said in a statement after the meeting: "It is unfortunate that this administration continues to insist on pushing failed solutions to our nation's most pressing problems. We will not allow law-abiding gun owners to be blamed for the acts of criminals and madmen."
Biden is heading a task force on reducing gun violence formed after a gunman shot dead 20 children and six adults last month at a Connecticut elementary school. He said he will make recommendations to President Barack Obama by Tuesday.
The strong reaction by the NRA, a lobbying organization known for its influence with many lawmakers from both parties, illustrated the difficulty of changing gun laws in a country long accustomed to being able to buy firearms under relatively loose regulations.
The Biden task force is trying to reach a consensus on a set of recommendations quickly while there is still a mood for action in Congress after the shootings in Newtown, Connecticut.
Moving quickly for Washington, Biden plans to turn over recommendations to Obama after only a few weeks of work. Biden said there is only a "tight window" for action.
"There is nothing that has pricked the consciousness of the American people (and) there is nothing that has gone to the heart of the matter more than the image people have of little 6-year-old kids riddled - not shot, but riddled and riddled - with bullet holes in their classroom," Biden said.