In two weeks, Colin Wong, in his late 70s, will fly from San Francisco to China again. It will be the 42nd trip to China for Wong, who is "still excited and anticipating good things will happen," said the veteran dentist, a 1965 alumnus of the Arthur A. Dugoni School of Dentistry at the University of the Pacific.
As usual, Wong will help coordinate his team of experts from the Alliance for Smiles, a San Francisco-based non-profit that provides free cleft lip and palate surgeries to impoverished children around the world to conduct operations with local hospitals in Guizhou province in Southwest China.
Bilingual and well versed in Chinese culture and social customs, Wong is in charge of the team's activities during its China stay.
On Aug 19, Luo Linquan, Chinese consul general in San Francisco, hosted a banquet to recognize what the alliance has done over the years for Chinese children and expressed his gratitude on behalf of the Chinese government for the American people's goodwill.
"I want to thank all of you who have volunteered on medical missions to China or have been generous with time and money to support these missions," Luo said. "To all of you here, you can take enormous pride in the changes you helped achieve: building confident smiles for children with cleft lip and palate, making a difference for their life and even their family, and helping Chinese doctors and nurses to improve their skills."
In 2004, six members of the Rotary Club of San Francisco - Jim Deitz, Anita Stangl, James Patrick, John Goings, John Uth and Burt Berry - established the Alliance for Smiles, hopeful that the program would not only send medical teams to sites to perform corrective surgery but also create treatment centers where the American protocol of cleft surgery could be replicated.
The team also hired Karin Vargervik, director of the cleft lip and palate treatment center at the University of California, San Francisco Medical Center, to head the treatment center program.
China is always on the alliance program's radar due to the grave reality there - approximately one in 350 children born in China each year has a cleft lip or palate abnormality; however, medical solutions are often out of reach for children from families in underdeveloped regions.
Anita Stangl, outgoing president and CEO since the inauguration, approached China as the first country chosen to implement its dual concept. In addition to the vast number of child patients in China, the alliance already had relationships with the China Population Welfare Foundation and the State Family Planning Commission - organizations that could help set up treatment centers.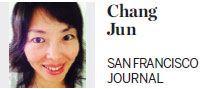 There was also an intense interest from China's health workers in how to get treatment centers up and running.
The cross-border collaboration and communication have borne fruit. In 2007, AfS dedicated its first treatment center in Jiujiang, Jiangxi province, followed by a second in Wenzhou in 2009, and a third in Harbin in 2011. A fourth treatment center is to be established in Zunyi, Guizhou province this fall.
For the past nine years, the alliance has sent its doctors and nurses from San Francisco to China regularly to provide free surgeries and therapies to young patients.
The work helps build understanding and friendship between our two peoples, said Luo, adding that the tree of Sino-US friendship takes its roots in people-to-people exchanges.
"With the nourishment of kindness and goodwill, it will grow and bear sweet fruits for all the generations to come," said the top diplomat in San Francisco.
Karl Wustrack, chairman of the board of directors at the alliance for three years, received a certificate of recognition from the consulate. He said many of the treatment centers the alliance has established in China are "self-sufficient", and Chinese physicians and medical staff are capable of handling daily operations.
"We are very positive about the friendship and coordination with our Chinese partners," Wustrack said.
Contact the writer at junechang@chinadailyusa.com