The navy of the Republic of Korea has retrieved debris from the first stage of Pyongyang's long-range rocket, which will be analyzed to determine its level of ballistic expertise, the ROK's defense ministry said on Friday.
The debris is expected to be an important piece of information in determining Pyongyang's rocket capability, said ROK defense ministry spokesman Kim Min-seok.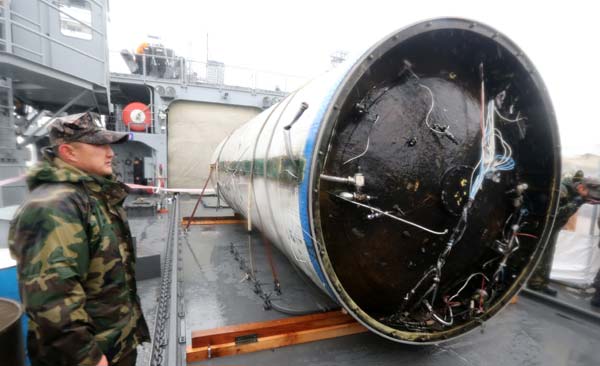 Debris retrieved from the first stage of the rocket launched by the Democratic People's Republic of Korea, on the deck of an ROK military vessel. AFP Photo / YONHAP 
The section salvaged by the navy appears to be a fuel tank, inscribed with the name of the "Unha-3" rocket.
The analysis will be carried out by a team of civilian and military experts, as well as US specialists in Soviet missile technology.
The first stage of the rocket launched on Wednesday fell into the sea off the Korean Peninsula, while the second splashed down east of the Philippines.
The recovered debris was found on the seabed, some 160 kilometers west of the southwestern port of Gunsan, Yonhap News Agency said, at a depth of around 80 meters.
Before its last rocket launch attempt in April, which ended in failure, the Democratic People's Republic of Korea had warned both Japan and the ROK that any effort to salvage debris from the rocket would be considered an "act of war".
The warning was not repeated before Wednesday's launch.
Pyongyang said its latest launch was a purely scientific mission aimed at placing a polar-orbiting earth observation satellite in space.
Also on Friday, hundreds of thousands of DPRK soldiers and civilians rallied in the center of Pyongyang for a mass celebration of the country's rocket launch.
The huge crowd in Kim Il-sung Square, standing in neat, organized ranks, applauded speeches by senior military, party and government officials hailing the success of Wednesday's launch and praising the country's top leader, Kim Jong-un.
"Under the great leadership of Kim Jong-un, we are carrying out a sacred task toward our last victory so as to build a strong and prosperous nation," Kim Ki-nam, a politburo member from the Workers Party of Korea, told the applauding and cheering crowds.
The rally came hours after the media published a statement by Kim Jong-un ordering more satellite launches in the future.
AFP-Reuters